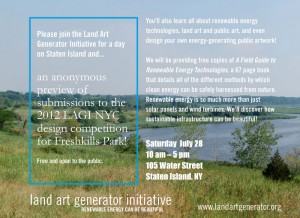 Saturday, July 28, 2012
105 Water Street
Staten Island, NY 10304
10am – 5pm
Free and open to the public
Please join the Land Art Generator Initiative for a day on Staten Island and a sneak preview of submissions to the 2012 LAGI NYC design competition for Freshkills Park. You'll learn all about renewable energy technologies, land art and public art, and even design your own energy-generating public artwork!
We will be providing free copies of A Field Guide to Renewable Energy Technologies, a 67 page book that details all of the different methods by which clean energy can be safely harnessed from nature. Renewable energy is so much more than just solar panels and wind turbines. We'll discover how sustainable infrastructure can be beautiful!
Special thanks to the Council on the Arts and Humanities for Staten Island who have helped make this event possible. Funding for the event comes from the Horne Family Foundation and the National Endowment for the Arts.