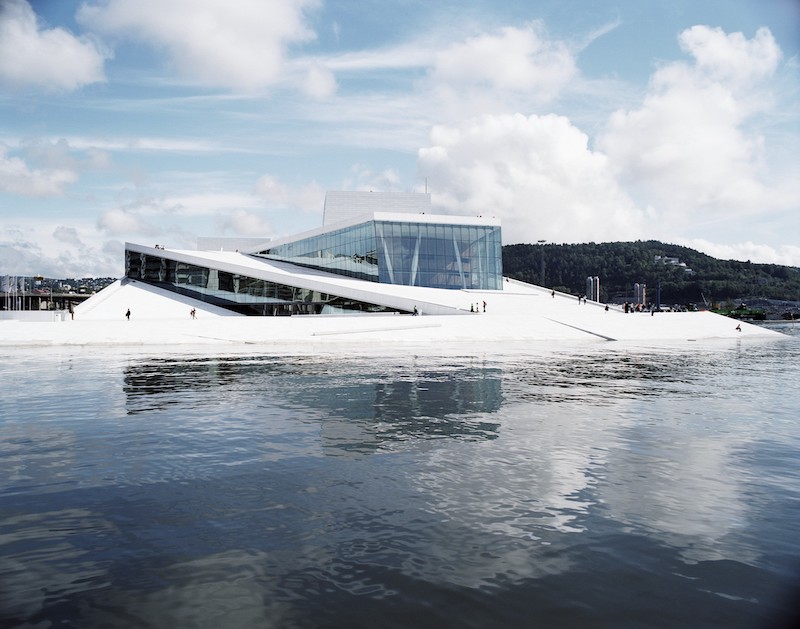 This post was originally published in Sustainable Brands Japan and is a collaboration with our Japanese partner, ATTIQUE, a place branding agency that has strong relationships with major Japanese companies eager to achieve carbon neutrality.
Earlier this year the LAGI Directors had the fortune of speaking with Kjetil Trædal Thorsen, Co-founder of Snøhetta, an architectural firm with studios in Oslo, Norway, Paris, France, Innsbruck, Austria, Adelaide, Australia, and Hong Kong, as well as New York and San Francisco in USA. The practice has earned worldwide acclaim for designs that integrate with nature, such as the famous Oslo Opera House, which looks like an iceberg rising out of the bay. Kjetil spoke about the firm's perspective on sustainable design and how to achieve buildings that have the least environmental impact possible.
In pursuit of true sustainability
Founded in 1989, Snohetta was strongly influenced by the United Nations Sustainability Report, "Our Common Future," published two years earlier in 1987 in honor of Gro Harlem Brundtland, the former Prime Minister of Norway and chair of the World Commission on Environment and Development. Commonly known as the "Bruntland Report," it helped to define the idea of sustainable development as, "development that meets the needs of the present without compromising the ability of future generations to meet their own needs." This helped establish the foundation for the UN Sustainable Development Goals (SDGs).
Today, Snøhetta is a transdisciplinary practice that includes architecture, landscape architecture, interior architecture, art, product design, graphic design, and digital design, often integrating a combination of disciplines across its projects. The company remains true to a philosophy that architecture and design can contribute to improving society and the environment.
Since its establishment, Snøhetta has focused its activities on the three pillars of Social Sustainability, Environmental Sustainability, Economic Sustainability.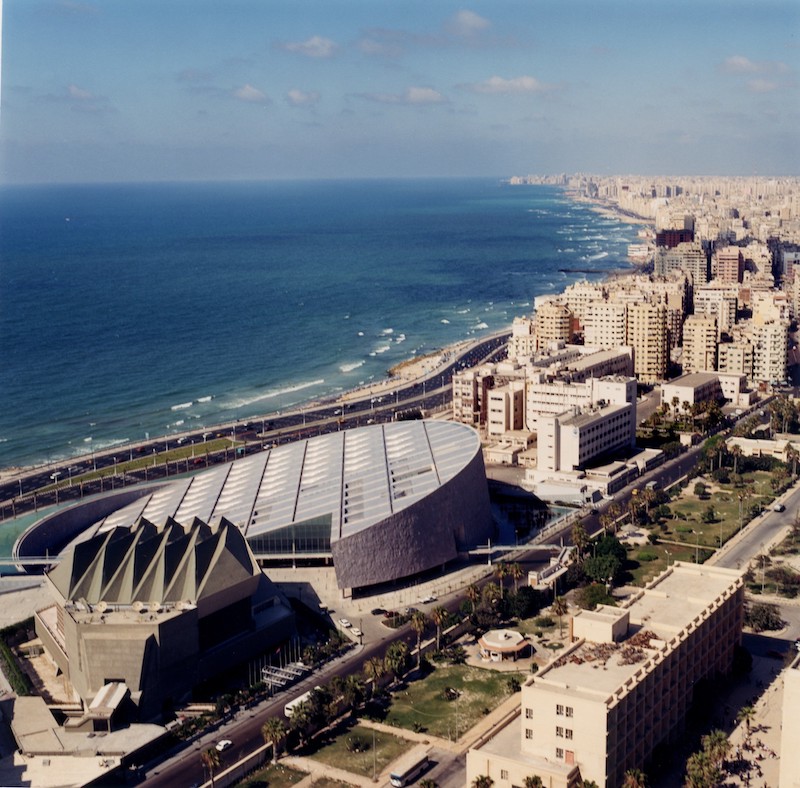 In their 2001 Bibliotheca Alexandrina project in Alexandria, Egypt, Snøhetta not only designed the library as an open and accessible public space, but also worked to ensure the safety of local workers involved in the construction. In addition to ensuring a safe and healthy working environment, vocational training, and salary payments for on-site staff at international standards, the team recruited half of the staff domestically and half internationally to provide opportunities for cultural exchange and learning.
"This experience led Snøhetta to think deeply about what true sustainability is, rather than just touching the surface of environmental issues," Thorsen said.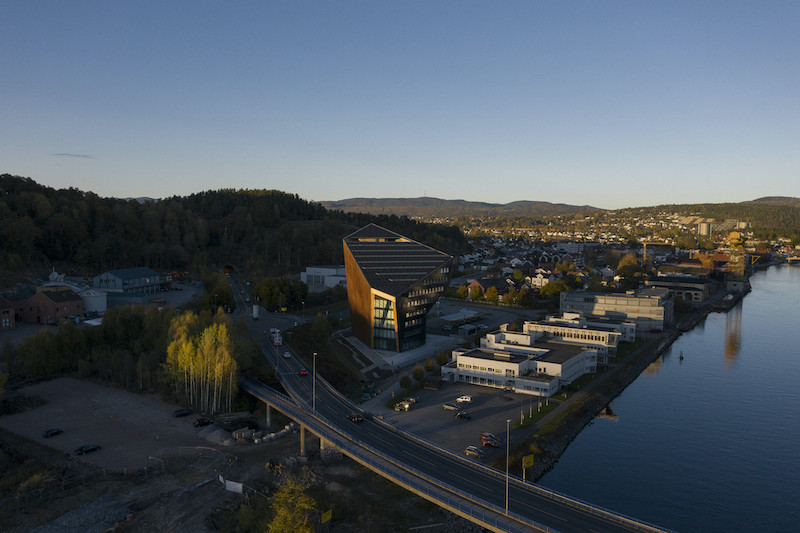 Achievements in environmental sustainability
According the Thorsen, Powerhouse Telemark, an office building in Porsgrunn, Norway is, "an example of how Snøhetta is able to present the world with a step-change for action on climate" as it pertains to the built environment.
Completed in 2020 with Norwegian real estate company R8 Property as the client, the BREEAM Excellent certified building reduces energy consumption by 70% per year compared to conventional office buildings. It also generates more electricity than it consumes thanks to the integration of solar photovoltaic modules into the design.
The facade, tilted at a 45° angle to the east, is designed to stand out in the flat industrial area where Powerhouse Telemark is located. The impressive roof is gently sloped to capture the maximum amount of solar energy, which is stored on-site in batteries.
The entire building is highly insulated through the use of triple-paned windows. The structure is made of thick concrete slabs, which store heat during the day and slowly release it in the evening. Efficient heating and cooling are achieved through the use of geothermal energy loops and heat pumps.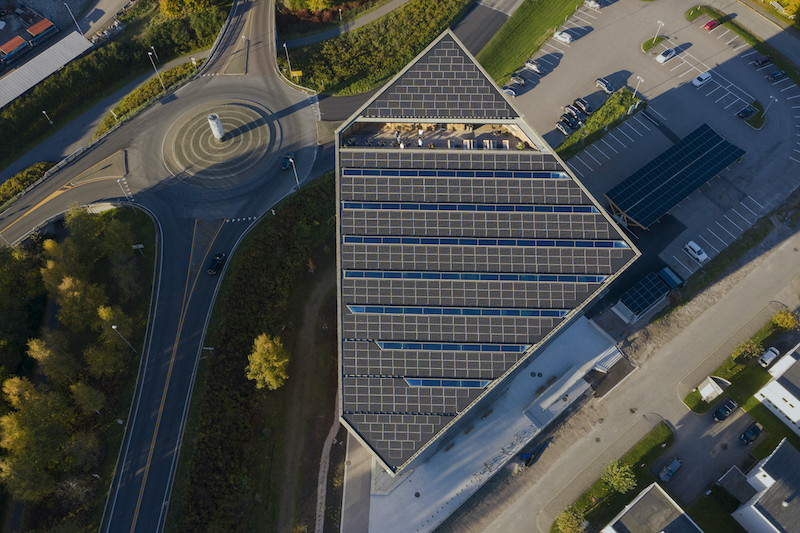 To reduce CO2 emissions further, consideration was given not only to efficient building operations, but also to construction methods, transportation, and the selection of materials. Much of the building is composed of local wood, gypsum, and environmentally friendly concrete, all of which are durable and can be used as-is without energy-intensive processing.
According to Thorsen, "If we adopt and transport materials made in faraway places simply because we like them, CO2 emissions will increase. Not only from transportation, but also from the production of materials, work at the construction site, operation of the building after construction begins, maintenance, demolition, and recycling, which all generate CO2. It is essential to have a strong awareness of the need to cover all these processes with clean energy as much as possible."
At the office building "Powerhouse Brattørkaia" in Tronheim, Norway, we are thoroughly utilizing renewable energy using solar panels.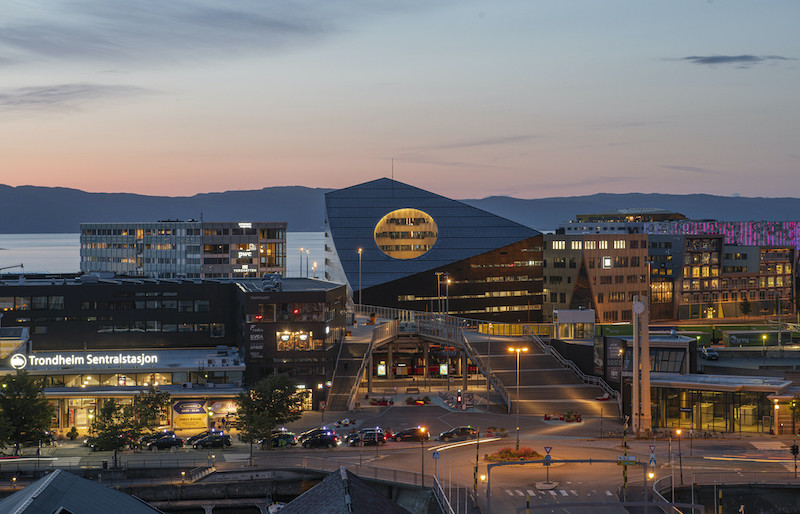 By placing solar panels across the entire surface of the building, Powerhouse Brattørkaia can produce approximately 500,000 kilowatts of electricity per year, twice the amount consumed by the building, and send the surplus power to surrounding buildings and transportation systems.
If a building is to use solar power to generate all the electricity it consumes, air conditioning, heating, ventilation, and other air conditioning management must be done with as little reliance on power as possible. To achieve this, Powerhouse Brattørkaia uses natural lighting, and regulates indoor temperatures using solar heat storage.
In addition, Snøhetta is increasing the number of projects where the electricity required for construction is not derived from fossil fuels but from clean energy using electric heavy equipment. As a part of the complete life cycle analysis, the building also covers all the energy required for future deconstruction with the energy generated by on-site solar power.
Tips for sustainable architecture in the Japanese context
When asked how Japanese architects might work to make their building designs carbon-neutral, especially within cities, Tolsen says, "In Scandinavia, there is still a lot of land, so there is no need to make the building vertical. Because the sun is always low in northern latitudes, it is also more energy efficient to build a low-rise building. For dense urban environments we need still need to think about architecture and energy production according to the site characteristics." Yet another approach is to consider urban districts as sustainable design systems at a larger scale.
Especially for countries like Japan where land availability is limited, Thorsen references the "Zero Emission Neighborhoods," a joint research project with private companies and public institutions.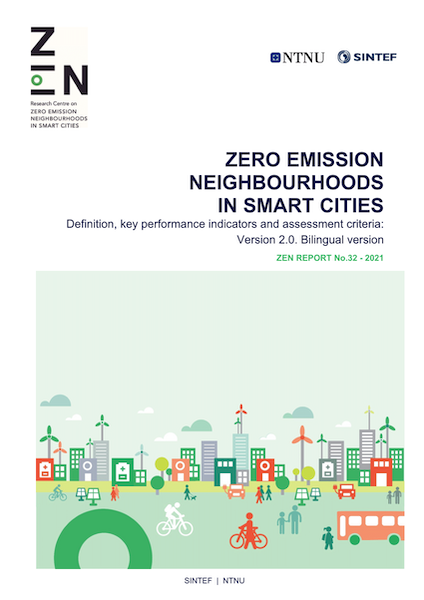 Zero Emission Neighborhoods Case Study
Thorsen says that when land is limited, the idea of sharing the energy produced with neighbourhood communities is important. "If we only think about each building, we won't achieve our goals," he said. The shift to renewable energy needs to be considered at the city planning level.
Zero Emission Neighborhoods was started in 2016 with an awareness of such issues, seeking the possibility of producing and sharing energy in neighbourhood communities.
With 34 selected partners in Norway, the initiative proposes energy solutions, promotes the introduction of smart technologies in each region, and exchanges knowledge learned through practice on how to create environmentally friendly neighbourhood communities where these technologies can be used.
"This project has shown that you don't have to build a huge new infrastructure to produce energy in an entire city block," Thorsen said. "For example, the roofs of existing buildings can all be used for energy production. This requires a program for the local community regarding energy consumption and production. We can start by having a dialogue in the community, especially if it is a high-density urban area. This can for example be sharing information with neighbors about available rooftop space and the amount of electricity that is available."
In this way, Snøhetta's design, which contributes to climate change mitigation and sustainability, interweaves the philosophy of environmental and social sustainability, giving back to the local community throughout the architectural design process. Similar co-design processes can be incorporated into the design of energy infrastructures such as solar landscapes in cities.
Snøhetta is working to go beyond the scope of architecture to contribute to climate change countermeasures and the realization of socio-economic sustainability.