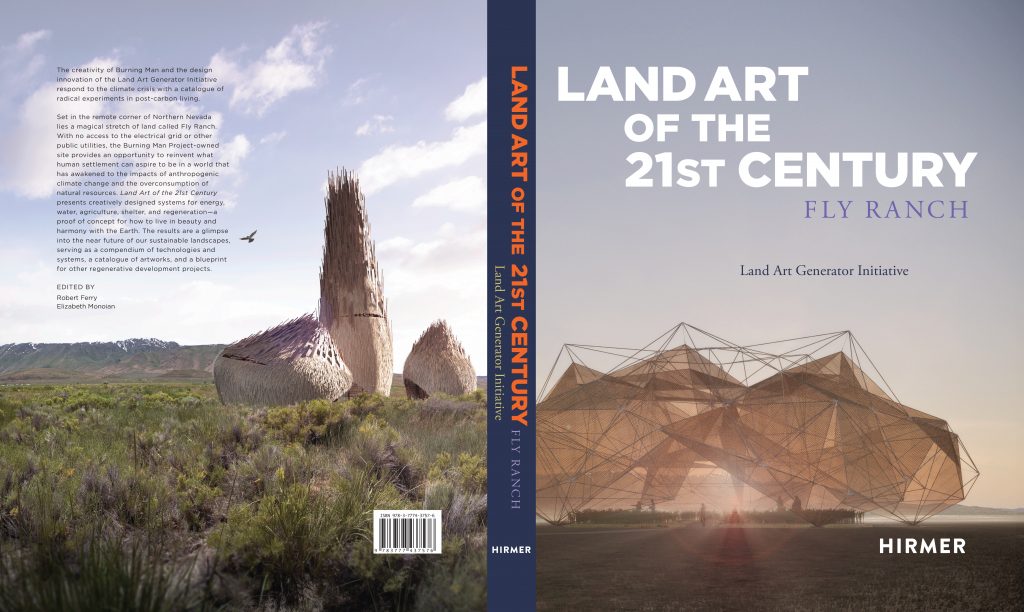 The latest book from the Land Art Generator is going to press this week and will be on the shelf of your favorite bookseller this October. You can pre-order your copy today at a nice discount from The University of Chicago Press.
The book provides a brief history of Burning Man Project and Fly Ranch, and takes a look at how this beautiful, remote landscape has taken center stage for a regenerative revolution in design.
In addition to highlighting more than 70 of the innovative designs submitted to LAGI 2020 Fly Ranch, the book features a beautiful short story of our possible future by Yodassa Williams, a foreword by Autumn Harry, and essays from Harley Dubois, William Fox, and Lisa Beers.
The creativity of Burning Man and the design innovation of the Land Art Generator Initiative respond to the climate crisis with a catalogue of radical experiments in post-carbon living.

Set in the remote corner of Northern Nevada lies a magical stretch of land called Fly Ranch. With no access to the electrical grid or other public utilities, the Burning Man Project-owned site provides an opportunity to reinvent what human settlement can aspire to be in a world that has awakened to the impacts of anthropogenic climate change and the overconsumption of natural resources. Land Art of the 21st Century presents creatively designed systems for energy, water, agriculture, shelter, and regeneration—a proof of concept for how to live in beauty and harmony with the Earth. The results are a glimpse into the near future of our sustainable landscapes, serving as a compendium of technologies and systems, a catalogue of artworks, and a blueprint for other regenerative development projects.
Title: Land Art of the 21st Century: Land Art Generator Initiative at Fly Ranch
Published by: Hirmer Verlag
Editorial direction: Robert Ferry, Elizabeth Monoian
Project management Hirmer Publishers: Rainer Arnold
Senior editor Hirmer Publishers: Elisabeth Rochau-Shalem
Copy editing and proofreading: Ann Rosenthal
Design: Paul Schifino
Pre-press: Reproline Mediateam, Unterföhring, Germany
Table of Contents
008 FOREWORD: Autumn Harry
010 ESSAY: "Land Art of the 21st Century" by Robert Ferry and Elizabeth Monoian
018 LAGI 2020 DESIGN GUIDELINES
022 ESSAY: "When Burning Man Came to Fly Ranch" by Harley K. Dubois
034 ESSAY: "A Brief History of Fly Ranch" by Dr. Lisa Schile-Beers
040 ESSAY: "Art Marking Land, Land Making Art" by William L. Fox
046 SHORT STORY: "Future Nostalgia at Fly" by Yodassa Williams
052 WINNING ENTRIES
106 FEATURED ENTRIES
223 BIOGRAPHIES
226 GLOSSARY
233 INDEX
234 ACKNOWLEDGMENTS