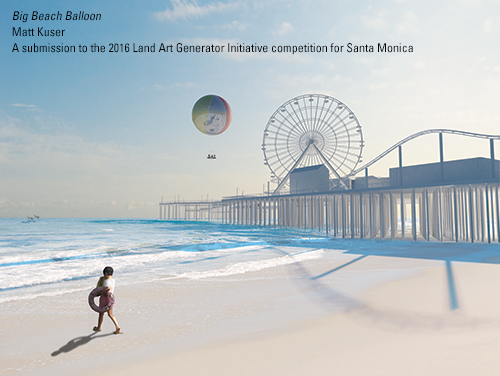 Big Beach Balloon, a submission to the 2016 Land Art Generator Initiative design competition for Santa Monica
Artist: Matt Kuser
Artist Location: Carmel, USA
Energy Technologies: thin film photovoltaic
Annual Capacity: 300 MWh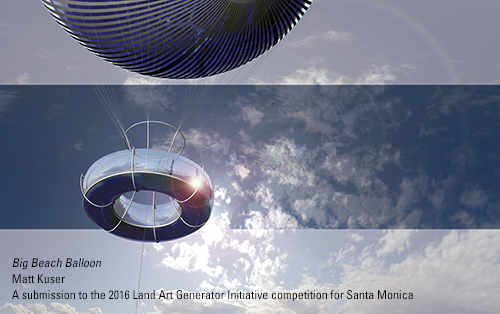 High above the bustling historic pier, Big Beach Balloon gently carries excited passengers skyward to experience Santa Monica from dramatic new heights. By connecting the pier's amusement park character below with spectacular panoramic aerial views above, the design aims to celebrate Santa Monica's glorious location, while seamlessly harnessing one of its most abundant resources, the sun.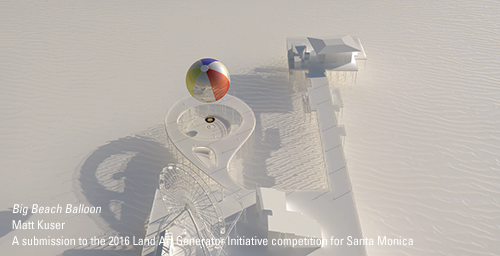 Cutting-edge, thin film solar technology is paired with the timeless romance of motorless flight. The tethered helium balloon, 23 meters in diameter, offer 20–30 passengers a memorable 10-minute ride up to 150 meters above the pier (or as high as the Santa Monica airport flight paths will allow).
Combining solar power generation with a new attraction at the pier is the perfect way for Santa Monica to highlight its ambitious solar initiatives in a playful way that engages people for years to come.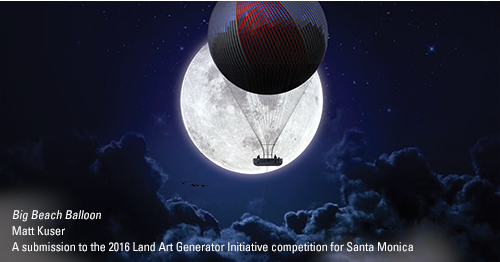 The spherical array of solar film allows the balloon to dynamically track the sun throughout the day. Collected energy passes through a junction box at the balloon's suspension net, and then travels down the tether cable to the landing platform for easy connection to the central grid.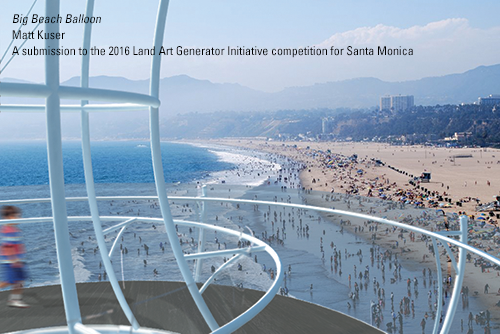 One of the most precious resources of the site is the ocean vista. Big Beach Balloon has a small footprint, leaving the majority of the proposed site and the clear horizon view from the edge of the existing pier untouched.
The design is noiseless, allowing passengers to leave the bustle of the crowds below and listen to the music of nature.