THE KYST
Submission to the 2014 Land Art Generator Initiative Copenhagen design competition
Artist Team: Janka Paulovics, Annika Janthur
Artist Location: : Berlin, Germany
Energy Technologies: piezoelectric discs and fibers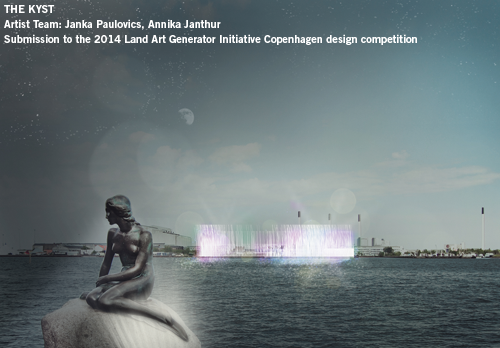 THE KYST is positioned between the poles of the natural, technical, and cultural history of the site, and the visionary all-encompassing and sustainable impetus of Copenhagen.
The form of the installation is inspired by the "phragmites" or reeds that are a very common part of Denmark's coastal flora. Just like a field of reeds in a natural setting, THE KYST Energy Park consists of many densely placed stems in a wide swath along the water's edge. They draw energy from their surroundings: the wind, the sea, the rain, and from their interaction with humans. Scaling the stems up to the size of a tree places the visitor in a fairy-tale environment, like Alice in Wonderland.
THE KYST consists of 1400 single stems that merge into a sculptural landscape installation. The installation occupies the water and the land at the same time, placing one-third of the stems in water and two-thirds on land. Concentrating the stems at the edge will have the effect of an iridescent installation with a moiré of alternating views as the beholder approaches the site.
As an ode to nature and a calligraphic element, the stems have leaf-like structures added to the stems to harvest energy as they move with the wind, water, or rain. Even more importantly, the leaves enable and encourage human interaction with visitors.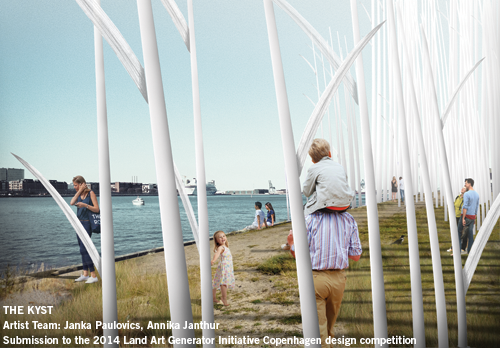 Piezoelectric Fiber Composites (PFCs) are placed inside the hollow structure of the stems to collect the energy from the leaves and swaying stems. The highest output can be generated when the stems catch their own resonance frequency and vibrate like a flagpole in the wind.