4th Place Mention for LAGI 2012: 99 Red Balloons
Artist Team: Emeka Nnadi, Scott Rosin, Meaghan Hunter, Danielle Loeb, Kara McDowell, Indrajit Mitra, Narges Ayat, Denis Fleury
Artist Location: Winnipeg, Canada
Energy Technologies: Solar panels and piezoelectric panels
Annual Capacity: 14,000 MWh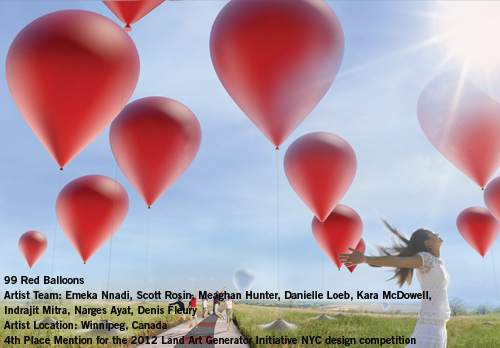 Artist Descriptive Text:
"99 dreams I have had,
In everyone a red balloon,
It's all over and I'm standin' pretty
In this dust that was a city.
If I could find a souvenir
Just to prove the world was here
And here is a red balloon
I think of you, and let it go" (99 Luftballoons, Nena, 1984.)
An excerpt from the 1984 song "99 Red Balloons", this verse evokes visions of loss, hope, memory, and the perseverance of dreams for a redemptive and meaningful future. Inspired by these images, 99 Red Balloons is a thoughtful proposal for a metaphorical souvenir — proof that something redeeming and beautiful can rise out of the 'dust' that has been placed on the land by human activity and the accumulation of society's waste.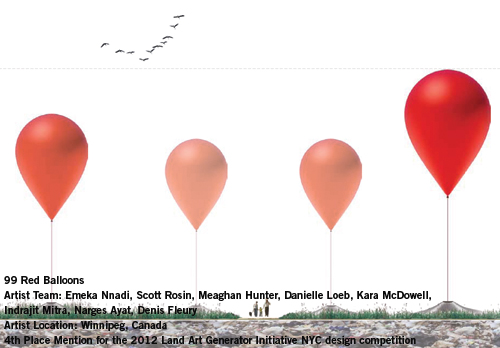 In this proposal, North Park is covered with 99 majestic red balloons. They soar over the park terrain, celebrating an awareness of the underground landfill infrastructure and the multiple processes by which energy is captured, harnessed, and ultimately released.
The balloons are photovoltaic solar generators tethered to a resin pole and anchored to the ground by a steel plinth. 50 feet tall and 40 feet wide, the tops of the balloons float 100 feet in the air to fully engage the sun's rays.
An array of raised boardwalks with piezoelectric panels meander through the site collecting energy as visitors explore the landscape. When stepped on, a sensor is triggered and the nearest balloon fades from vibrant red to transparent, revealing the solar harvesting systems hidden within the balloon cavity. This magical interaction between people and the installation challenges visitors to reflect upon the pressure that has been placed on the site and the impact a single human being can have on the environment.
99 Red Balloons inspires contemplative thought in park visitors as the balloons fade and intensify in color responding to human activity. Beacons for present and future generations, they symbolize the release of pressure that has amassed from years of the site's use as a waste storage facility.