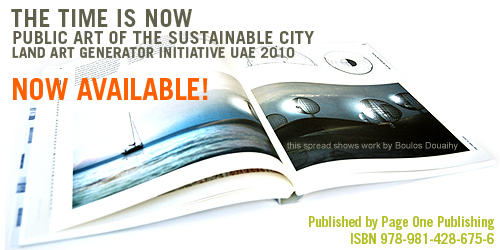 We're very proud to announce that The Time Is Now: Public Art of the Sustainable City, is now available.
The book is beautifully designed by Page One Publishing. It includes 51 submissions to the 2010 edition of the LAGI design competition, as well as fascinating essays written by Beth Carruthers, Michiel Van Raaij, and Reuben Andrews (with the Dubai Electricity and Water Authority). It also includes a forward essay by LAGI and an opening statement by Masdar.
"And now the final beauty of this initiative is that we can explore the feasibility of implementing all the leading submissions—again creating a link between a future vision and today's reality"

-Dr. Sultan Al Jaber, CEO of Masdar
It is now available directly from the publisher and in select retail outlets.
Click HERE for information about how to purchase your copy. Or you can now also purchase directly online through Kinokuniya Book World.
From the publisher's description:
In 2010, the Land Art Generator Initiative held its first international design competition to explore the various facets of renewable energy's beauty. Artists, architects, engineers and scientists from around the world worked together to design power plants that would function not only as infrastructure for clean energy production, but also as conceptually powerful works of art for the United Arab Emirates. This book presents the best of the entries, the winners of which were chosen by an international jury. The aim is to actualise public art that fulfills its societal role while pushing the boundaries of technology—progress at peace with the natural world.