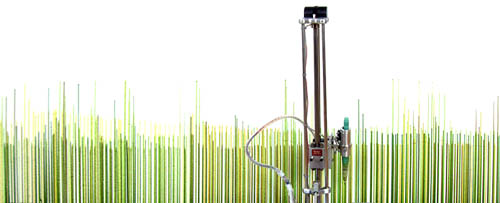 Grower, 2004 by Sabrina Raaf (image via loop.ph)
As we are in the midst of the open call to artists for the 2012 LAGI design competition for Freshkills Park, NYC, we thought that it would be a great time to write a small post here about the broader environmental art movement. Eco-art has a long and beautiful history, and we hope that those who are participating in the LAGI competition will appreciate the profound impact that has been made by its pioneering practitioners over the past decades. Eco-art continues to educate and inform by making people think about environmental issues in interesting and conceptual ways, and thereby arousing the slumbering environmental activist within us all.
ECO-ART is a contemporary art movement that addresses local and global environmental issues. In their work, eco-artists explore a variety of ideas and intentions, which may include environmental ethics, information about ecological systems and the use of natural forms and materials in art. Some eco-art is functional, striving to reclaim, restore or remediate damaged environments. Eco-art can re-envision ecological relationships and even propose new models for sustainability.
Below are just four (out of a long list) of our favorite eco-artists. We hope that you'll be interested to take a look at the reference links at the end of this post to find your way to hundreds of other amazing environmental artists.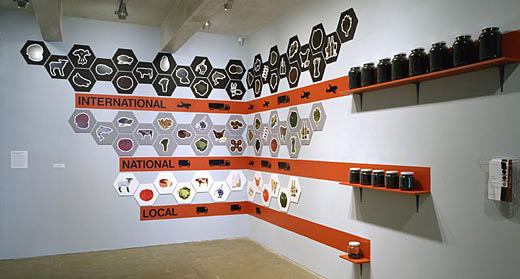 Ann Rosenthal, Steffi Domike, and Suzy Meyer – Carbon Cafe 2009
(image via Kunsthaus Kaufbeuren)
Ann T. Rosenthal While some artists focus on digging holes and hands-on reclamation, Ann T. Rosenthal is a passionate advocate for an "interprative" approach to environmental art which combines thorough research, documentation and electronic media installations. Her work is often collaborative as in her Infinity City project with artist Stephen Moore which explores nuclear waste and the environmental devastation caused by the atomic bomb. (text via greenmuseum.org)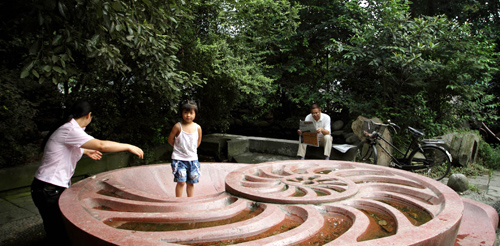 Betsy Damon and Margie Ruddick – Living Water Garden in Chengdu, Sichuan Province, China (image via threatenedwaters.com)
Betsy Damon Environmental art pioneer, Betsy Damon, creates large-scale art parks featuring sculptural flow forms and public art events to help clean urban waterways and raise water awareness around the globe. Her nonprofit organization, Keepers of the Waters, provides information and technical support for others working with similar design principles and processes. (text via greenmuseum.org)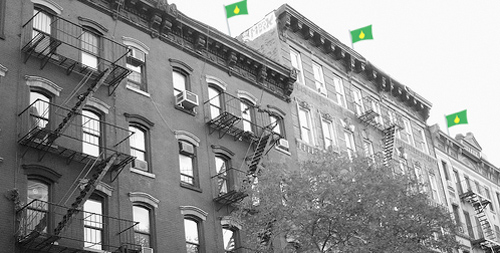 Eve Mosher – Seeding the City (image via 2modern and courtesy of Eve Mosher)
Eve Mosher is a contemporary American artist who creates large-scale projects that directly engage the audience regarding ecological issues, such as in her highly-acclaimed HighWaterLine project. In her project Seeding the City, Mosher used social networking and community-based workshops to encourage New York City residents to start small green roofs. By installing green roof modules and displaying green flags, participants demonstrated the potential for community action and green space. In another recent project Paths of Desire, Mosher encouraged New Yorkers to connect with historic waterways and consider their relationship to the water surrounding Manhattan.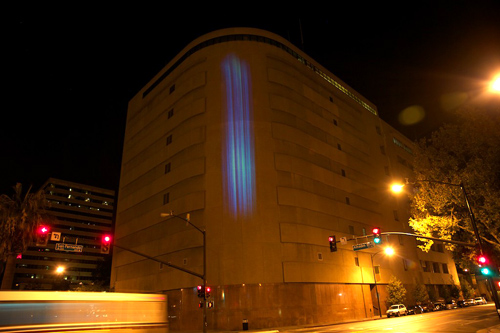 Andrea Polli and Chuck Varga – Particle Falls 2011 (Image courtesy Everett Taasevigen)
Andrea Polli works at the intersection of art, science, and technology. Her artworks aim to make visible environmental issues and hazards that often go unnoticed in everyday life. She often works in collaboration with atmospheric scientists to develop systems for understanding storm and climate systems through video footage and sound. In Particle Falls, Polli and collaborator Chuck Varga use sound and video to create realtime visualization of particle pollution in Santa Clara, California. In another recent work Heart and Heartbeat in the City, Polli developed a series of sonifications in which the audience experiences oncoming climate change through sound.

More References!