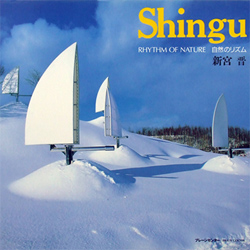 For over 50 years, the work of Susumu Shingu has been inspired by the energy of nature. The graceful way that his pieces respond to variations in the wind is incredibly inspiring.
Some move elegantly in the stillness as if they were some kind of perpetual motion machine.
His works are at the same time delicate and durable.
From Breathing Earth, a film by Thomas Riedelsheimerby:
"Nature knows no rigid resistance". Susumu Shingu works with wind and water. For many years now he has been creating sculptures that reveal the hidden energies of these elements – works of art that move the observer in an idiosyncratic manner, perhaps because they embody, in consummate beauty, a principle of life. They are moved by the same wind that we feel. They allow themselves to be carried by it, absorb it, change again and again, and then let it move on. Susumu lives according to this principle with great joy. He looks on in wonder, enjoys and, even at 71, he has retained the imagination and curiosity that led him to build flying machines and racing cars as a child.

Major architects, like his friend Renzo Piano, like to have their monumental constructions brought to life with his sculptures. Choreographers appreciate his sets and children love his imaginative illustrated books. He is a Renaissance man, fully committed to variety, the wonder of life and concern for people and his environment. This concern, along with his desire for people to discover other life principles again, have taken him on a journey to a new destination: Breathing Earth.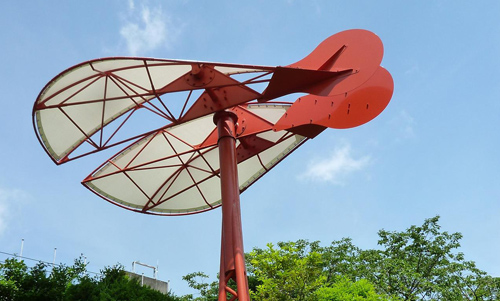 Never Ending Dialogue, by Susumu Shingu, in the Hakone Open-Air Museum, Hakone-machi, Kanagawa, Japan (image source)