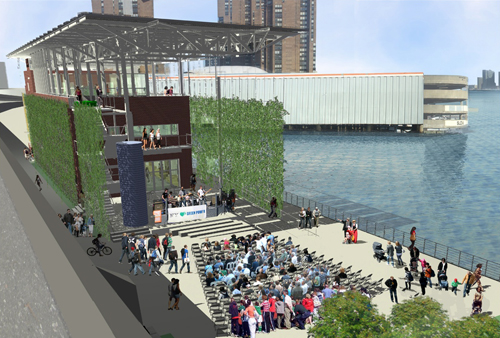 It was announced earlier this week that Solar One has received $1.25 million from New York City Council towards the construction of the Solar 2 facility at 23rd Street and East River in New York City, bringing the project very close to being able to break ground. This follows two grants this past spring from the New York State Environmental Facilities Corporation (EFC) and the J.C. Kellogg Foundation.
Designed by Kiss+Cathcart Architects, Solar 2 will be a LEED Platinum, net-zero energy building and will serve as an educational showcase of sustainable design and renewable energy technology. All of the electricity will come from a 90 KW peak capacity solar canopy that will generate nearly 100 megawatt-hours per year, an amount equal to about $15,000 per year at 14.5 cents per KWh. The solar array is designed to be easily upgraded as new technology comes on line.
Surrounding the building will be a green wall, providing natural shade in the summer and habitat for birds and insects. The building will be constructed with a very high percentage of recycled and rapidly renewable materials. Visitors will be able to see and learn about the advanced geothermal heat-exchange HVAC equipment. Natural daylight and ventilation, and other passive design strategies will keep base energy loads to a minimum.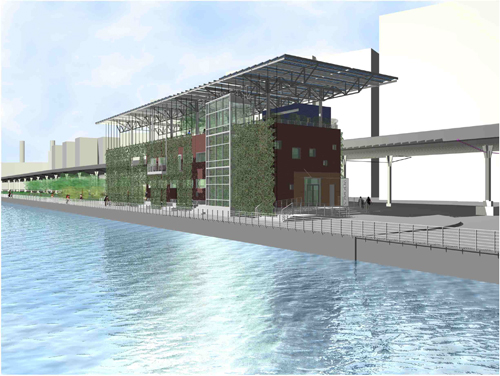 Other features in Solar 2 (from the Solar One website):
Green Roof will reduce heating and cooling loads on the building; filtering 
carbon dioxide and other pollutants out of the air; combating the urban heat effect, which makes cities measurably hotter than surrounding areas; and 
reducing storm water runoff, helping to alleviate the load on New York City's wastewater management system and thereby preventing the flow of raw 
sewage into our natural waterways.
Natural Daylight Strategies include the building's position, a north light 
skylight, glare reduction windows that allow light and solar heat gain to 
save energy. Windows include hopper windows, which induce outside air and are managed by systems and/or staff.
Energy Recovery Ventilation will be wind induced and stack driven.
Roof Monitors strategically placed will draw stack-induced ventilation air from the building due to the height of the spaces.
Rainwater Collection will provide all non-potable water, conserving the 
municipal water supply.
Building Management System will be a fully automated direct digital control system that will reduce energy costs.
Low Flush Toilets/Waterless Urinals will dramatically cut water consumption.
Recycled and Renewable Materials will be used in the building structure and interior furnishings.
Vegetative Green Screen is aesthetically pleasing and will allow the building to become part of the natural environment. It will provide natural shading and filtered sunlight saving energy keeping the building cool in Summer and allowing sunlight to warm the building in Winter. It also absorbs CO2 and adds to the biodiversity of the area with birds and butterflies.
Eco-Basement has cutaways and transparent walls, which will allow visitors 
to experience and visualize an ecologically sound built environment and provide a unique, rare glimpse into the HVAC and geo-exchange systems. Visitors can see how interactive systems, planning and design can save energy and reduce carbon footprint.
Multi-Purpose Indoor and Outdoor Classrooms will provide interactive 
learning environments for visitors of all ages.
Green Theater and Solar-Powered Stage is unique in New York City and serves as an entertainment space that also informs visitors about alternative energy. A multi-use space, the stage also will be used as an outdoor seating area where the East River and Park views can be enjoyed.
Eco-Apartment/Office will present visitors with energy saving and sustainable products, equipment and additional resources, demonstrating how households and offices can have a positive impact on the environment.
Wetlands Exhibit will accentuate SOLAR 2's unique location on the East River in Stuyvesant Cove Park.
Eco-Café will provide natural, fair trade, locally grown food served on recycled and sustainable place settings. It will operate seasonally on the roof of the building providing dramatic views of the East River eyond.
via inhabitat