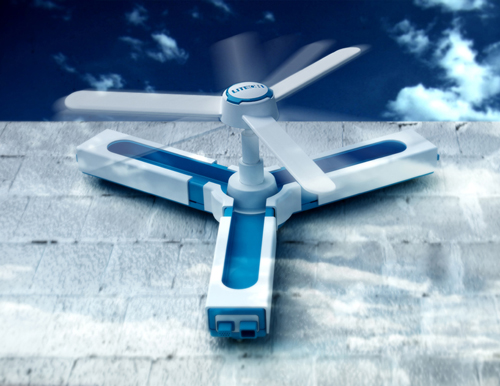 Wind Cube is a modular wind power system designed by Chen Liao-Hsun for household use. Designboom received the project via their 'DIY submissions' feature, where they welcome their readers to submit their own work for publication.
The Wind Cube units, 100-watt micro-wind turbine generators can be pulled out to activate the system when there is a gentle breeze, and then retracted in heavy winds or bad weather to avoid possible damage. Individual units are designed to fit together in a honeycomb structure and can thus be tiled to fit entire exterior walls and roofs. Chen Liao-Hsun says the concept is, "to use three-dimensional wind fields to make up for the insufficiency of two-dimensional ones." he estimates that each Wind Cube can generate about 21.6 kilowatt-hours of electricity per month, approximately 1/15 the household usage of a family of four.
There also exists the possibility for Wind Cube to be used in the honeycomb pattern structure as a free-standing fence, perhaps with overlapping honeycombs in parallel to provide structural stability. While an idea at the moment, there seems to be a lot of potential for this type of application. The pattern of wind movement around buildings may provide a great deal of energy that this type of micro-turbine would be able to harvest.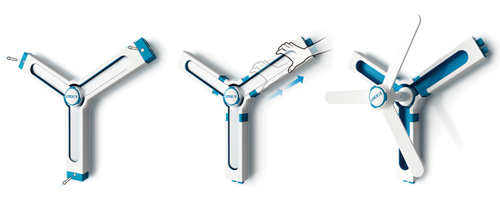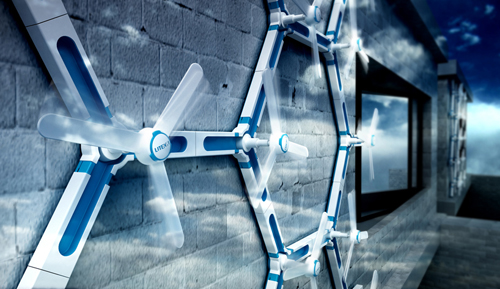 via designboom and inhabitat