We are blown away by the new and exciting ways renewables are being incorporated into creative projects.
In Mexico City, the French multinational ENGIE (pronounced Angie) recently teamed up with Germany's Heliatek, street artist N30, and others to transform a rather scruffy looking sports complex near Mexico City into a colorful recreational hub. The Solar Graffiti project is the first of seven installments of the ENGIE Harmony advertising campaign designed to promote the notion, globally, that technical progress can occur in harmony with people and nature.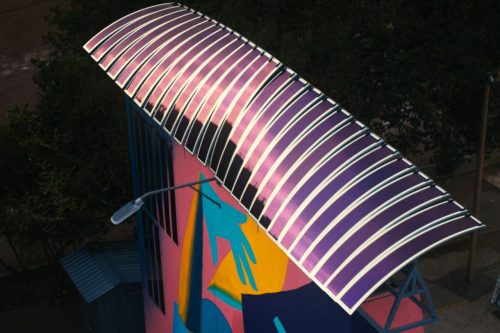 Google images of Deportivo Valentín Gómez Farías reveal a dull and tagged up site that was once especially intimidating or downright unsafe after dark, according to Engie and Heliatek. Today the transformed site is hardly recognizable.
Latin American Post describes N30 as a Mexican artist who is currently working on a number of projects in the U.S. According to them, his work is "characterized by using a wide range of colors, linear and geometric shapes fused with realistic human and animal figures." This is certainly true of the basket ball courts at Gómez Farías. Three large walls and even the concrete surfaces have been radically overhauled with color — bright and cheerful pink, blue, yellow — and highly efficient Organic Solar Cells (OPV).
"A total of 111 films of HeliaSol® were installed both on the wall elements and above in amplitude form," according to a Heliatek press release. "HeliaSol® is Heliatek's ready-to-use solar product solution that can be easily applied to flat and curved surfaces and stands out from conventional photovoltaic technology for its flexibility and light weight (1 kg/m²)."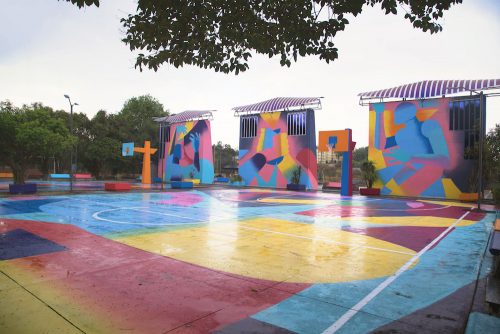 With wavy forms that enhance the overall aesthetics, the solar arrays are also functional. Energy absorbed throughout the day is stored for nighttime use, powering 15 LED street lights that not only make the site safer at night, but also usable. A place that was once feared has become a beacon of light in both the physical and metaphorical sense. It's an excellent example of the kind of collaborative effort and integrated design required for successful creative placemaking.
"This project is a great premiere. The approach is unique and bold, because it brings a whole new technology together with the work of a street artist,"
says Etienne Lerch, an ENGIE project engineer.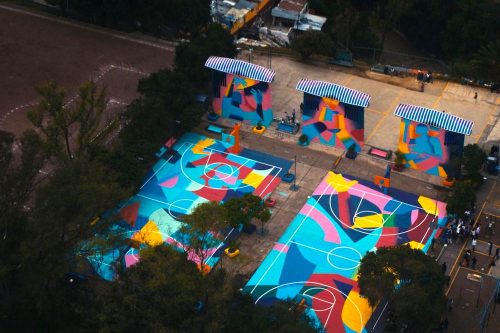 He adds: "A real solar art work, consisting of the organic solar films of Heliatek and enchanting art. Lightweight, flexible and easy to install, the solar films literally blend in with this art landscape to provide their residents with a lasting, powerful and therefore useful solution. And it's very exciting to immediately see the benefits for the neighborhood's residents."
The advertising campaign is designed to highlight Engie's renewable energy work. The company says its aim "is to work together to develop efficient, sustainable and low-carbon solutions that transform homes, buildings and cities into intelligent ecosystems." They have come a long way since changing their name in 2015 from GDF Suez (which means Gaz de France Suez — referring to their initial role as a French gas utility.) At the time, The Telegraph quoted former chief executive Gerard Mestrallet, who said, "Why this name change? Because the world of energy is changing, we're moving towards a less centralised, less carbon-intensive energy world, away from the centralised world of yesterday".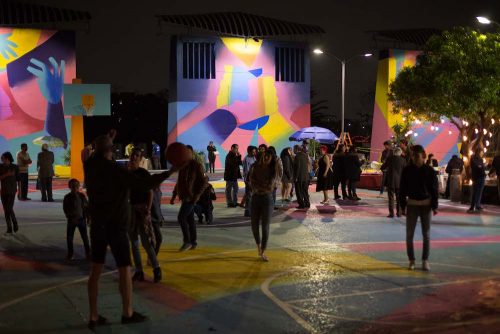 Thibaud Le Séguillon, Heliatek CEO, says their company was proud to work with ENGIE on the Solar Graffiti campaign, bringing "decentralized, decarbonized power generation to the city centers."
Still quite new — the project was unveiled in early May — it may be too soon to evaluate its social impact. But visually, it's a slam dunk!
All images © Leonardo Medina Ruiz; ENGIE
Tafline Laylin is a freelance communicator and journalist who strives for global environmental and social justice. Her work has appeared in The Guardian, The Atlantic, OZY.com, and a variety of other international publications.