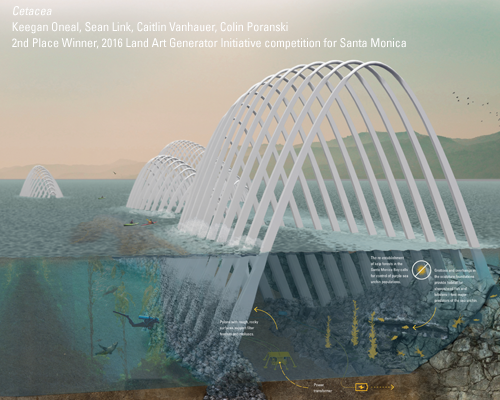 Cetacea, Second Place winner of the 2016 Land Art Generator Initiative design competition for Santa Monica
Artist Team: Keegan Oneal, Sean Link, Caitlin Vanhauer, Colin Poranski (University of Oregon)
Artist Location: Eugene (OR), USA
Energy Technologies: wave energy converter with linear alternator, Windbelt™, photovoltaic panels
Water Harvesting Technologies: high efficiency reverse osmosis (HERO™ by Aquatech) for stormwater runoff treatment
Annual Capacity: 4,300 MWh (80% used to offset the energy demand of existing SMURRF facility and power HERO™ system)
650 million liters of drinking water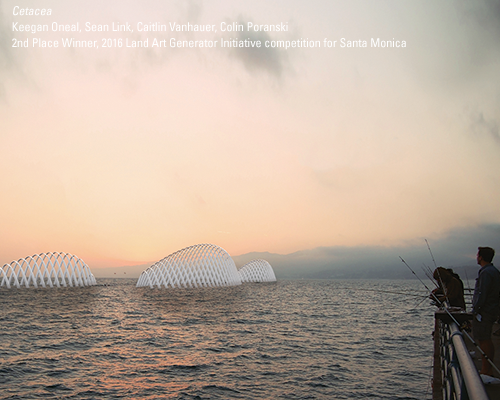 Cetacea is an elegant integration of energy and art, glistening white in the Santa Monica sun, rising gracefully from the surface of the water.
Cetacea generates power by harvesting the renewable resources of Santa Monica Bay—wind, wave, and sun. Driven by the principle of "clean power for clean water," Cetacea reconciles water scarcity with pressing social and ecological concerns by supporting the existing water filtration facilities near the pier while providing carbon-neutral power to city residents. By connecting to the Santa Monica Urban Runoff Recycling Facility (SMURRF) and providing enough electricity to run a High Efficiency Reverse Osmosis (HERO) system, Cetacea contributes to Santa Monica's 2020 sustainability goals of water and energy independence.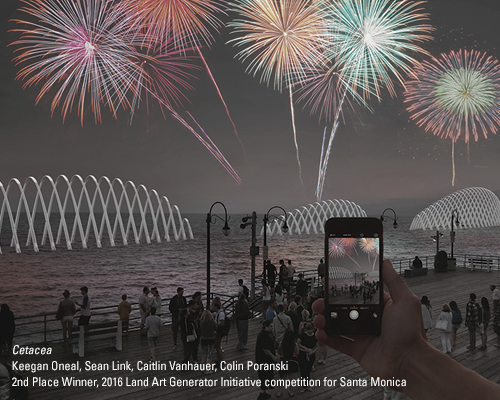 The blue whale is a pelagic powerhouse. Consuming upwards of four tons of krill per day, the world's largest creatures are fueled by gargantuan quantities of its smallest. Cetacea reimagines the blue whale's strategy of capturing micro-sources of energy on an even larger scale.
In place of the sprawling and unappealing profile of common renewable energy farms, a vertical configuration of wave-, wind-, and solar-powered generators within graceful, multifaceted arches maximizes energy production within a minimal footprint. Modular arch components mean that Cetacea can easily be expanded in the future through the construction of additional forms, meeting the needs of a changing city while continuing to generate energy beautifully and unobtrusively. Repetition and subtle variation of the arches create ethereal forms in constant interaction with the play of sea, light, and cloud across the horizon.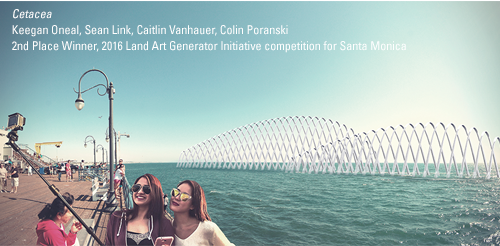 Wave buoys 300 mm in diameter are situated within the framework of the arches, floating at sea level to capture wave energy around the clock. The vertical movement of each passing wave induces the flow of electricity by moving a magnet through an electromagnetic coil.
Windbelts™ are stacked within the sides of each arch at one-meter intervals. Following Bernoulli's principle, the form of the arches increases wind speed as it passes through the belts. The resulting aerostatic flutter of the belts creates energy by oscillating magnets through an electromagnetic field. Photovoltaic panels positioned at the top of each arch provide maximum solar output.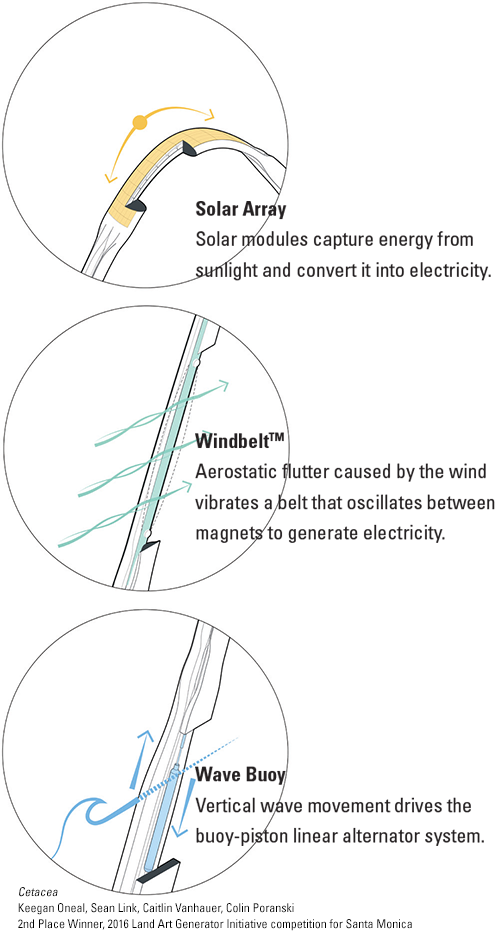 Cetacea consists of five sculptures of three different sizes. Each parabolic arch ranges in height from 13 meters to 30 meters tall. A pile system uses recycled concrete and allows room for habitat reconstruction around the minimal physical footprint of the structures.