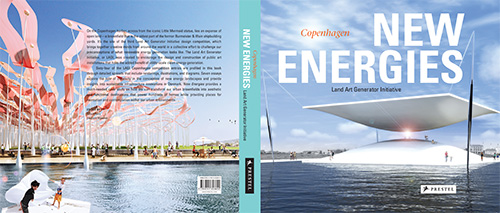 New Energies is the beautiful hardcover book that catalogs the LAGI 2014 design competition for Copenhagen. It is available at many bookstores, and online at such outlets as RIBA and Amazon.
The book contains engaging essays by Annette Skov ("The Glowing Island" A History of Refshaleøen); Laura Watts and Brit Ross Winthereik ("Energy as Alien"); Trine Plambech, Johanne Mose Entwistle, and Liselott Stenfeldt ("The Human Approach to Sustainability"); Peter Karnøe ("Danish Wind Power: A Journey Beyond Imagination" A History from 1893 to the Present); Chris Fremantle ("Working Together"); Else Marie Bukdahl ("Visual Art and the Ecological Challenge: About Some of the First Creators and Their Influence"); Lea Schick and Anne Sophie Witzke ("Generating Futures: LAGI as an Imaginatorium"); and an introduction by Elizabeth Monoian and Robert Ferry, the founding directors of LAGI.
It also illustrates 64 of the incredible proposals for energy-generating public artworks that came in from around the world in response to the LAGI 2014 open call.
The beautiful design is by Paul Schifino (Schifino Design), who also provided the graphic vision for the LAGI 2012 book, Regenerative Infrastructures.
On the Copenhagen harbor, across from the iconic Little Mermaid statue, lies an expanse of open land—a brownfield that is the oldest part of the former Burmeister & Wain shipbuilding yards. It's the site of the third Land Art Generator Initiative design competition, which brings together creative minds from around the world in a collective effort to challenge our preconceptions of what renewable energy generation looks like. The Land Art Generator Initiative, or LAGI, was created to encourage the design and construction of public art installations that have the added benefit of utility-scale clean energy generation.

Sixty-four of the LAGI Copenhagen competition entries are profiled in this book through detailed spreads that include renderings, illustrations, and diagrams. Seven essays explore the role of creativity in the conception of new energy landscapes and provide insights into sustainable infrastructure innovations in Denmark. New Energies provides a much-needed case study on how we can transform our urban brownfields into aesthetic and functional destinations that power hundreds of homes while providing places for recreation and contemplation within our urban environments.

Hardcover: 240 pages
Publisher: Prestel (November 12, 2014)
Language: English
ISBN-10: 3791353691
ISBN-13: 978-3791353692