We are pleased to announce the May 2013 release of Regenerative Infrastructures. The book will be published by Prestel (a division of Random House), and is being designed by Schifino Design.
In addition to detailing 65 of the 2012 LAGI competition entries, it will also contain eight thoughtful essays on subjects related to sustainable infrastructure and urban space.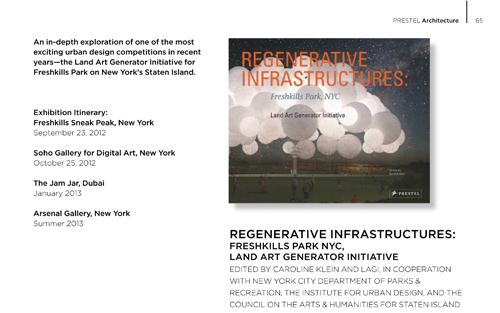 click on the image above for a link to Prestel's full 2013 catalog
We'll provide more information about the contributing authors and the included projects early in the new year.
From the Spring 2013 Prestel Catalog:
240 pages with 250 illustrations
Hardcover
11 x 9 in. / 28 x 23 cm
978-3-7913-5286-2
US$49.95 £35 Can.$54.95
Publication date: May 2013
Formerly a symbol of immense urban waste, the Fresh Kills Landfill is being transformed into an enormous parkland that is destined to exemplify the values of ecological restoration and environmental sustainability. Part of that transformation includes a competition for a site-specific public artwork designed to operate as a source of clean energy for the city utility grid. This volume features many of the top submissions to the Land Art Generator Initiative, which aims to create sustainable design solutions that integrate art and technology into renewable energy infrastructure around the world. The book draws a much needed connection between the two critical issues of sustainable development—energy generation and waste management—highlighting solutions that address both problems at once, thereby creating economically beneficial hybrid utility installations.

CAROLINE KLEIN is an architect and freelance author and editor for international architectural magazines and publishing houses. THE LAND ART GENERATOR INITIATIVE, founded in 2010 by Elizabeth Monoian and Robert Ferry, brings together artists, architects, scientists, landscape architects, and engineers to advance sustainable design solutions for large-scale renewable energy infrastructure.