Winning Proposals Announced for the latest LAGI Global Clean Energy Design Challenge!
Architect from Malaysia takes 1st Place prize in the LAGI 2022 Mannheim design challenge.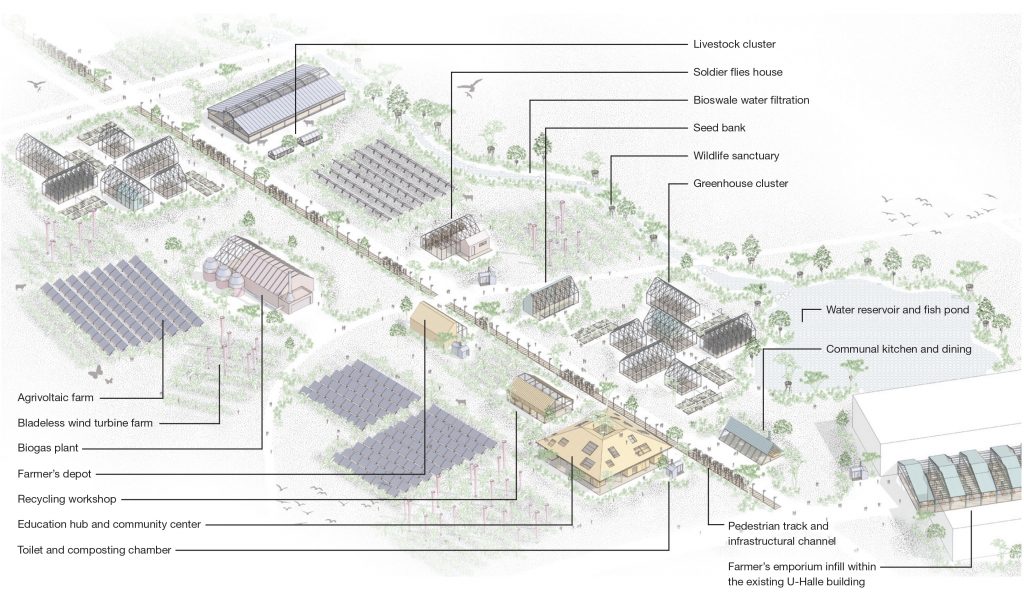 As the world seeks lasting climate solutions, the challenges of bringing solar and wind installations into our cities become more acute. Too often these energy infrastructures are seen as utilitarian and unaesthetic, which leads to pushback from communities near where they are planned. What if we could flip this paradigm and present solutions for renewable energy landscapes that are designed as beautiful places for people, providing a range of social co-benefits beyond clean energy?
With LAGI 2022 Mannheim, the Land Art Generator Initiative and BUGA 23 present a new perspective on renewable energy.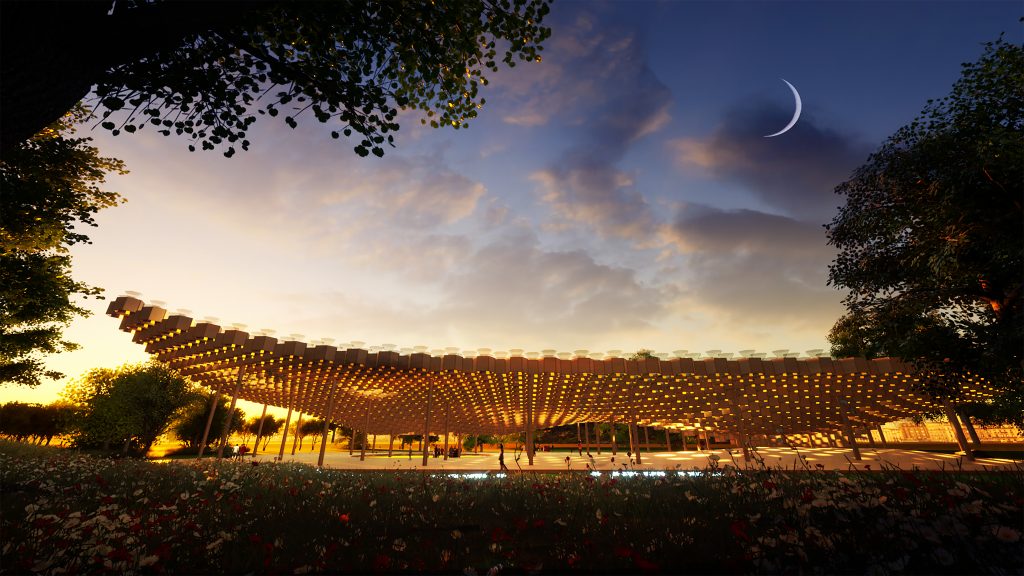 Beautiful Forms of Energy—a showcase of the proposals for the LAGI 2022 Mannheim design competition—presents dozens of design proposals that weave sustainable energy infrastructure into Mannheim's Spinelli Park. These regenerative artworks are exceptional climate solutions. They also provide a range of social co-benefits and inspire people about the beauty, abundance, and vibrancy of a fossil-free world. They can even be adapted to fit into your very own Kleingarten!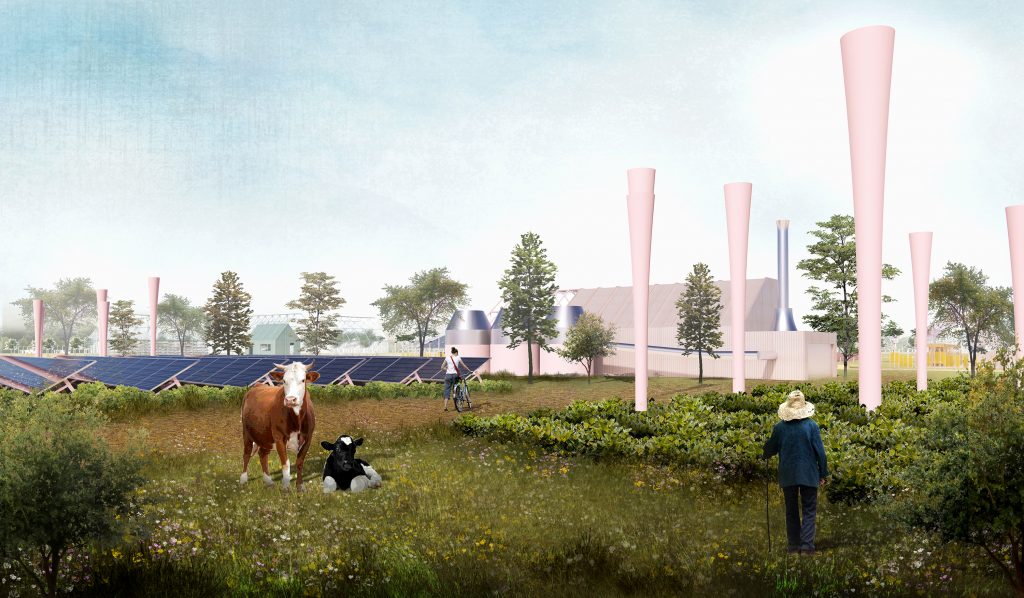 Chai Yi Yang, an architect from Malaysia, received the First Place prize award of $30,000 USD. If implemented in Spinelli Park, his proposal, Energy Circus, would generate 1,200,000 kWh every year for the City of Mannheim, while inspiring and educating the public with a creative living encyclopedia of regenerative technologies and working examples of circular economy.
According to Chai Yi Yang
Energy Circus asks us to consider what is the ideal relationship between people, landscape, wildlife, energy, and material resources? How can cycles of interconnectedness be demonstrated to the community in a tactile and theatrical experience?
Energy Circus is a collective ground within which to cultivate intimate relationships between community, landscape, and wildlife through a site specific shared ecosystem. It offers educational, participatory, and playful experiences, creating an outdoor nave along a primary pedestrian corridor through the park.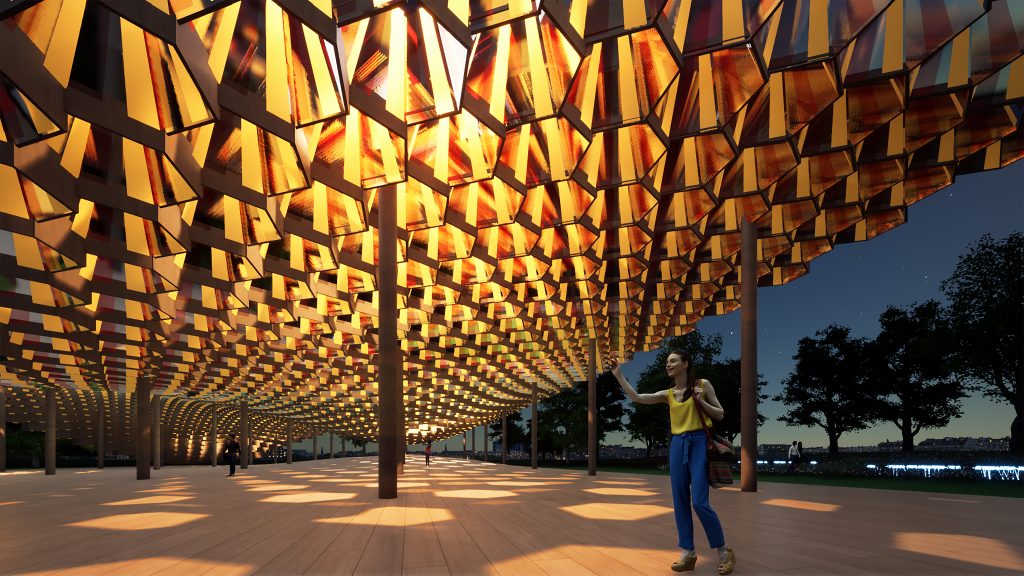 A group of students from Technische Hochschule Ostwestfalen-Lippe in Germany received the $10,000 Second Place prize award. Kaleidoscopic Dune by Muny-Roth Chev, Jason Daniel, Vatsapol Nanta would generate 85,000 kWh each year within a beautiful public gathering space, urban garden, and playground.
The design team adds:
Light makes all life on Earth possible and helps define the human experience. Kaleidoscopic Dune explores how technology, art, and light merge to define sustainable living in the twenty-first century. Incorporating light as a sculptural and experiential element, the artwork is a modular system of energy generation that is quickly assembled in a variety of forms made from sustainable materials.
The LAGI 2022 Mannheim design challenge is the latest in the series of Land Art Generator Initiative open call international design competitions. Incorporating the latest in proven clean technologies as media for their creative expression, design teams from around the world participated by proposing their solutions to the LAGI 2022 Mannheim design brief, which invited creatives to imagine renewable energy infrastructure as works of art for Spinelli Park.
The LAGI partnership with BUGA 23 brings together a number of themes and ideas for inspiration. Just as a garden is a productive landscape for nourishment that also brings us joy and pleasure, how can our productive landscapes for energy also bring joy and pleasure to our communities? How can renewable energy be integrated in beautiful ways into the city so that it is not some cold and utilitarian technology, but is instead an indispensable accessory, a statement of creative expression that we all desire to experience? At the same time, how can we make these new technologies accessible to everyone so that the benefits of energy democratization are equitably shared?
The design proposals that you see on display at BUGA 23 and that are featured in the accompanying publication, "Land Art as Climate Action: Designing the 21st Century City Park" expand the realm of the possible using existing clean energy technologies to create beautiful, sculptural modules that can plug into the smart post-carbon city to support a number of United Nations Sustainable Development Goals.
To learn more about the LAGI 2022 Mannheim design proposals, check out the complete online portfolio at https://landartgenerator.org/LAGI-2022/.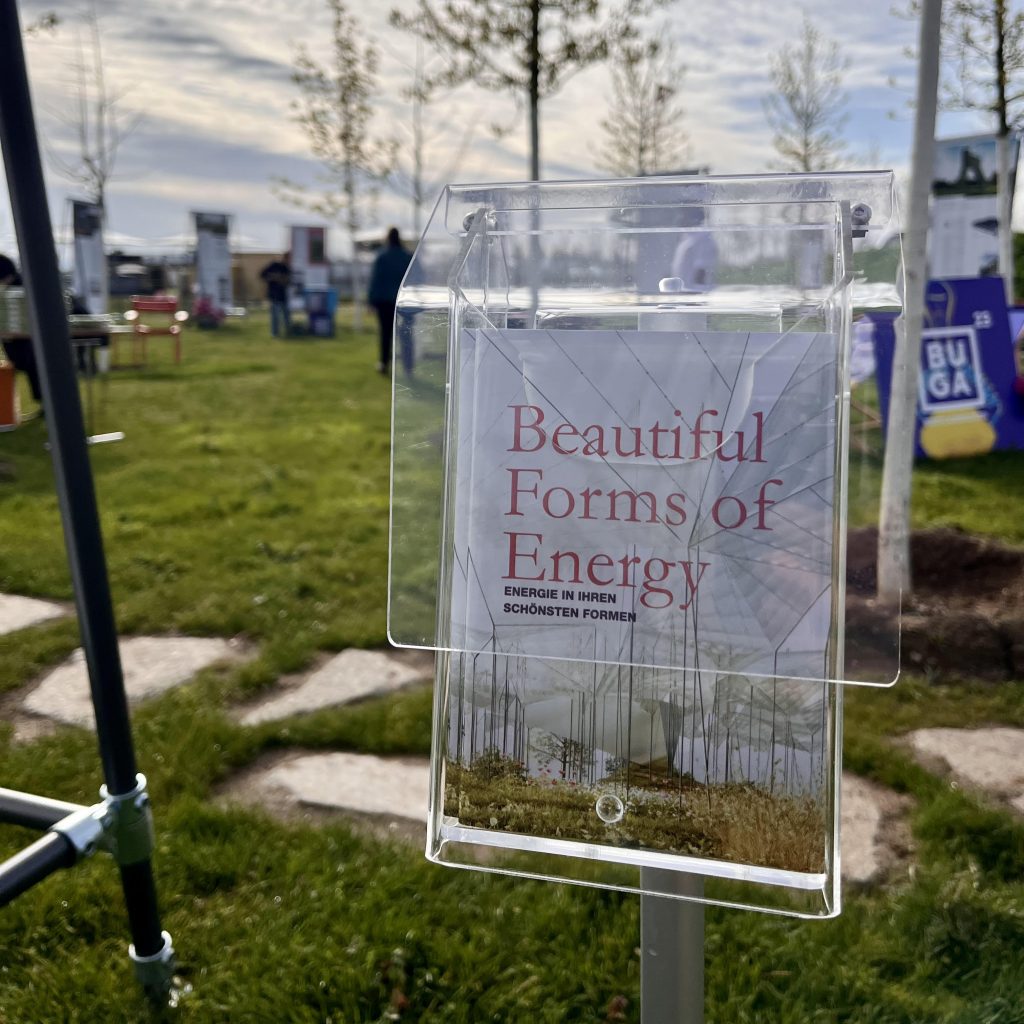 Visitors to the LAGI 2022 exhibition at BUGA 23 will discover creative clean energy solutions across a variety of scales—variations for a residential context or for a civic space that use modular components or scalable solutions. Together the artworks open a window onto a world beyond carbon where quality of life and social equity have been vastly improved as a consequence of the energy transition.
About BUGA 23
The Federal Garden Show—BUGA for short—refers to the horticultural exhibition itself, which has been held every two years in various cities in Germany since 1951. At the same time, the BUGA is also a planning process for open spaces, green and urban development that lasts for several years. Since the 2000s, fallow land or former industrial landscapes have been transformed into new local recreation areas through conversion measures and renaturation. The resulting park areas support regional structural change, urban development, and improve quality of life in the long term.
BUGA 23 is being held on the site of the former Spinelli barracks. Once used by the German Wehrmacht as a pioneer barracks and after the Second World War by the US armed forces as a warehouse, Spinelli Park stretches from the Aubuckel to the Käfertal district of Mannheim.
BUGA 23 and the development of Spinelli Park will help to realize the green corridor northeast, which is of great importance for the climate of the city as well as for living and recreation in Mannheim. The green corridor will improve the microclimate and the fresh air supply to the surrounding city districts.
BUGA 23 has a clear goal. It wants to be the most sustainable BUGA of all time. In addition to attractive flower shows and garden landscapes, the exhibitions and events focus on environmental and climate protection, resource-saving energy production and sustainable food security. With a clear focus on the 17 UN Sustainable Development Goals, BUGA 23 wants to demonstrate solutions and create space for experimentation and research.
BUGA 23 Managing Director, Michael Schnellbach expressed his gratitude to all the teams who participated in LAGI 2022 Mannheim:
We are incredibly grateful to everyone who contributed projects. In a time so marked by crises, we are shifting to a world that will consist of 100% renewable energy in the coming decades. As we do so, it is important that art and design influence the aesthetics of sustainable infrastructures in our cities and our landscapes.
About the Land Art Generator Initiative
With a mission to advance a just and equitable energy transition in response to the climate crisis, the Land Art Generator Initiative (LAGI) helps design places for people that share land use with distributed renewable energy generation and other sustainable infrastructures. The Land Art Generator works with public and private organizations to help them meet their greatest potential as they plan, design, and implement new clean energy projects and regenerative communities. LAGI design competitions bring forward innovations in sustainable design that capture the imagination of the world. Co-design projects and Solar Mural installations demonstrate the benefit of applying best practices of creative placemaking, urban design, and civic art to renewable energy projects.
We are excited about our partnership with BUGA 23 because we see the incredible value of community gardens to support the energy transition. LAGI 2022 Mannheim is a catalog for these gardens—a glimpse into a future world where the hundreds of millions of square meters of well-tended gardens not only provide healthy food but also provide gigawatt hours of green electricity to help power the surrounding city.