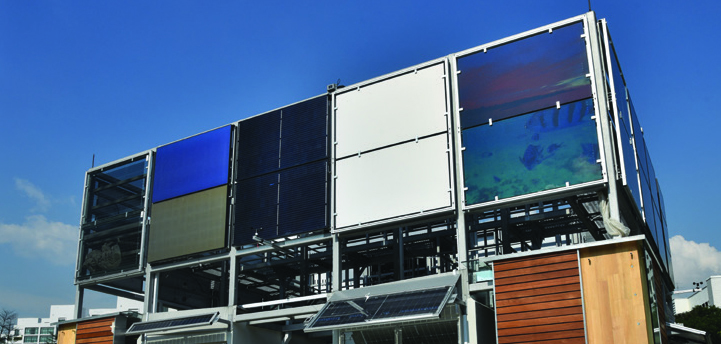 What does a solar panel look like?
This is a question that we have been thinking a lot about since we founded the Land Art Generator Initiative in 2008 and launched the first LAGI design competition in 2010. At that time there were already a range of interesting technologies being developed and coming to market, including colorful organic photovoltaic thin films, dye-sensitized solar cells, and innovations like Sphelar™. We included some of these in our first Field Guide to Renewable Energy Technologies in order to get the word out to designers, artists, architects, landscape architects, and other creatives. The goal of the Land Art Generator continues to be getting people to consider renewable energy as a medium for creative expression in civic spaces and destination landscapes.
Over the past decade there have been a number of fascinating developments in solar module technology, lamination glass, and special films. Below is a list of some of the products that are out on the market today. Any of these can be excellent media for art in public places—making our cities more beautiful as we make them more sustainable. All images are courtesy of the website linked to for each unless otherwise noted.
Monocrystalline Silicon and Thin Films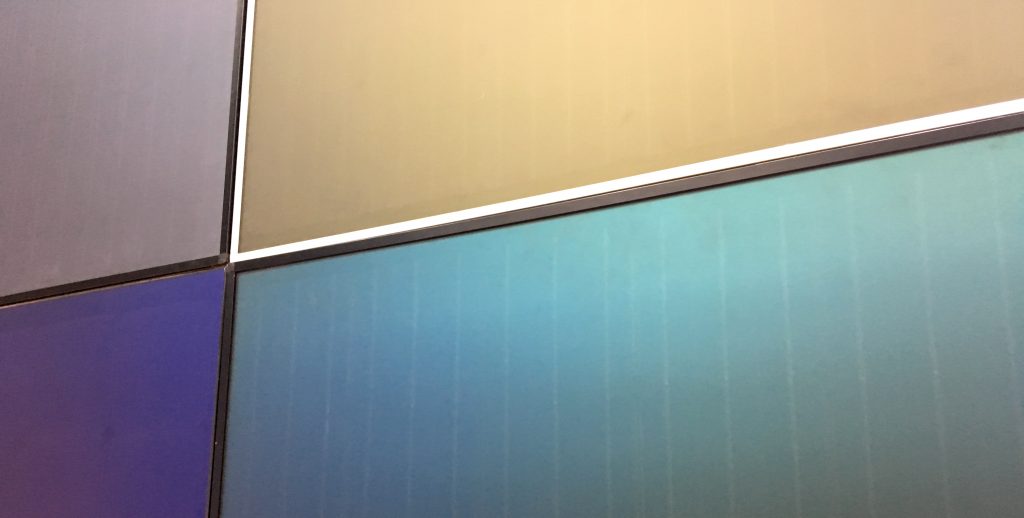 Kromatix™ by SwissINSO is a custom color-treated glass face laminate that is applied during the solar module production process. It can be applied over pretty much any kind of photovoltaic panels (PV) or over flat solar thermal modules. The technology is a highly efficient and environmentally friendly nanotechnology surface treatments for a kind of structural color in grey, blue, blue-green, orange, bronze, and brass. Because it is integrated into the module glass Kromatix™ is laminated at the panel manufacturer's factory, not in the field.

Invent uses their InvisibleCell® technology that hides the busbars, gaps, and electrical finger connections that appear silver/white on a standard PV module behind an all-black face laminate. With small variations in the pattern of the glass, they are able to create greyscale patterns of any kind. Panels can work together to create larger compositions.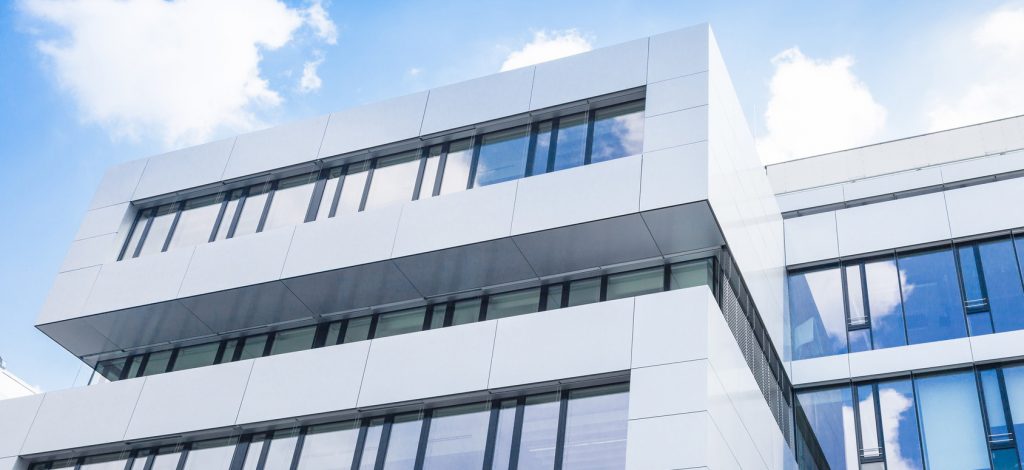 Solaxess allows any exterior building surface to be a solar power generator. All of the white finish panels that you see in the photograph above are generating electricity from standard solar panels concealed behind the custom Solaxess laminate.


Kaleo in Neuchâtel, Switzerland has a version of a printed film that is applied to the face of a solar module. The glossy finish is great for photographs with a look very similar to a C-print on transparency film. The solar module making electricity behind is completely invisible, obscured by the beauty of the artwork.

Tesla Solar Roof tiles use a series of small "louvers" within the top encapsulant layer of laminated glass that obscure the inner workings of the solar module when viewed from the range of angles one might normally expect to have to a rooftop from the street. Meanwhile, the angle that the sun hits the tiles normally throughout the day has an unobstructed path to the solar cells. This is kind of like the way a lenticular image works to show one graphic when viewed from a certain angle and another graphic when viewed from a different angle. You can learn more in Tesla's patent application. Ever since this product was announced, we at LAGI have been curious to see what an artist might do with this product when set free from the confines of a pitched roof.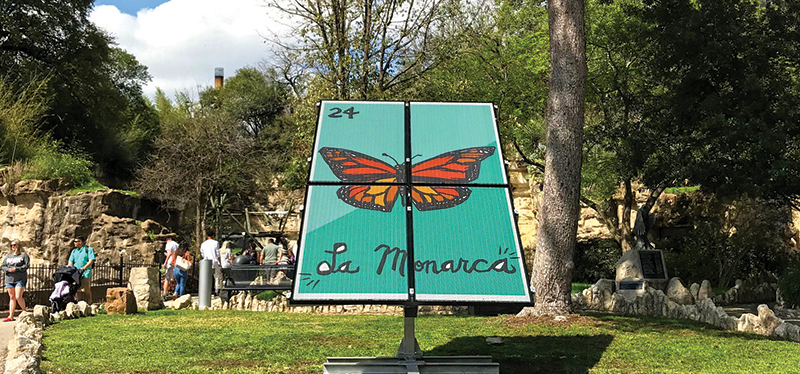 Sistine Solar makes a film—SolarSkin—onto which any graphic image can be printed. The special film allows almost all of the light through to the solar cells to generate electricity. The product was developed at MIT by the company's founders, and has been marketed as a way to disguise solar panels on rooftops by printing a full-scale image of the surrounding roof shingle pattern, color, and texture. But the technology allows you to print literally anything, not just roof shingles. For example, we specified Sistine Solar on the world's first Solar Mural installation, which was installed in San Antonio in 2017. The La Monarca image was designed by San Antonio artist Cruz Ortiz with creative direction by Penelope Boyer. You can read more about La Monarca and the LAGI Solar Mural program at solarmural.com.
While it comes with a 25-year warranty, the Sistine Solar SolarSkin can also be exchanged in the field, so if an artwork that uses the film would like to change at some point in the future that is possible, without replacing the solar modules themselves. As with many of the surface applications listed in this article, there is a small trade-off on electrical conversion efficiency with this product of about 2%, so a solar module that would normally be 20% under ideal conditions will operate at 18% under the same conditions—a very small price to pay for the versatility and beauty of this option!
Dutch Solar Design Photovoltaics is another applied film that can be printed with any image. They specialize in building textures that make the solar modules disappear into the building facade. See the link to their site for photographs.


ColorBlast uses a ceramic printing technique on the face of the module glass that lets sunlight through to the solar cells.

Hei makes curved modules that are meant to be integrated into exterior lighting poles. In that context they are an elegant solution for cities. We wonder if the modules could be also used by an artist in a more creative manner?


Onyx Solar specializes in building integrated PV of various types, like the almost completely transparent glazing option shown in the image above.
Polycrystalline Silicon PV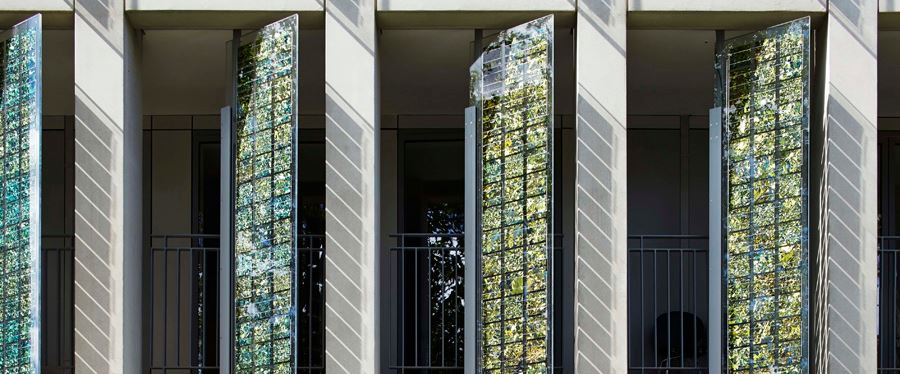 LOF Solar makes polycrystalline solar cells of almost any color that can be integrated into custom modules.
Organic Photovoltaic Thin Film (OPV)

Heliatek makes flexible and colorful OPV film that can be applied in a variety of creative applications.

OPVIUS specializes in OPV that can be fabricated in custom shapes like the hexagonal forms integrated into the German Pavilion at the Milan Expo in 2015.
Dye-sensitized Solar Cells (DSSC)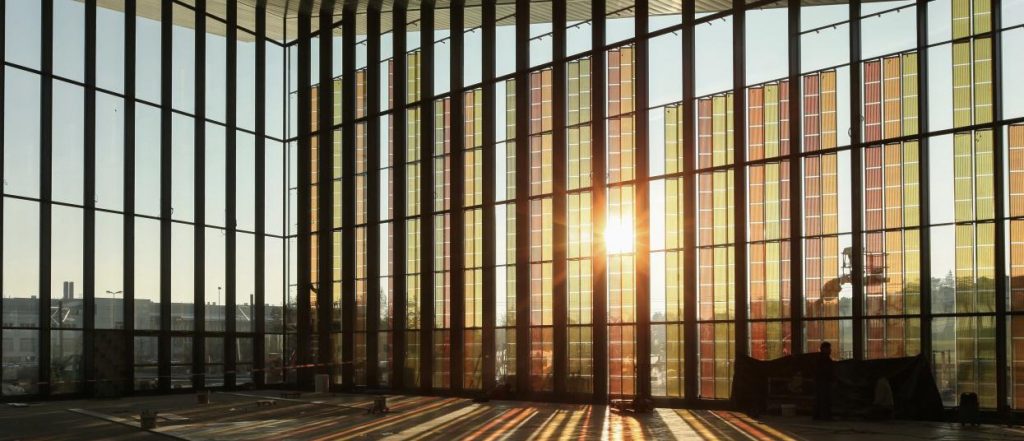 Solaronix specializes in dye-sensitized solar cell production. You can see their technology installed at the EPFL Convention Center in the image above.
Luminescent Solar Concentrator (LSC)
ClearVue is a fascinating technology that results in a 70%+ clear glass pane that generates electricity by channeling the right wavelengths of light to the edges of the module where the PV cells are located.
If you know of any other products out there, please send us an email at lagi@landartgenerator.org and let us know about them!
To close, we'll leave you with this beautiful image of the winning design from the 2018 Land Art Generator Initiative design competition for Melbourne. Light Up, uses a solid color lamination over monocrystalline silicon solar PV modules to create this stunning work of art for St Kilda Triangle.