LAGI 2018 EcoCentre Art+Energy Camp
October 3–5 Melbourne, Australia
Download the Art+Energy Camp outcomes here >
Download the Art+Energy Camp workbook here >
The following blog entry was written in part by the workshop participants.
RESEARCH
Day 1 We began the 3-day workshop by learning about the design site, St Kilda Marina. Laura Smith with the City of Port Phillip joined our group to provide site context and talk about the history and potential futures for the site.
We learned about a variety of renewable energy technologies (wind, wave, solar, kinetic, etc.), the history of power plants, and public art. We also reviewed various past submissions to LAGI competitions for some inspiration and to help us understand how these renewable energy technologies can be integrated in creative ways.
The second part of our day was a walk to the design site. We learned about the animals that call the waters and lands around the marina home, and the flora that is indigenous to the site. We took photos, made sketches, and took notes and observations about how the site made us feel and what was happening around us. All of our experiences helped to inspire us to generate keywords and concepts as the first step in the design process for a work of public art.
Some of the remarks from the day's site visit included commenting on not liking the fake grass and the plastic fences. There was a feeling of disconnection from the water and the city. -Participant Mikayla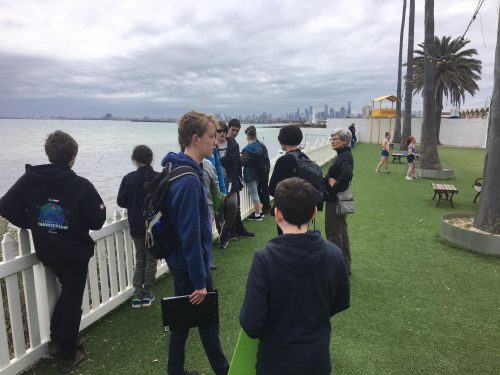 DESIGN
Day 2 of the workshop started with a review of the previous day.
We shared thoughts and ideas on the secluded, fake and frankly unattractive spot that had been visited. We where given our task: to make something that broke those barriers, and improved the spot to attract visitors and incorporate the land that, while so near, was fenced off and ignored. The encouraging words for the project, spoken to us as we started brainstorming ideas, was 'make an artwork that happens to be sustainable'. We sure stuck by it. Aided by the delicious lunch provided by the eco-centre, Countless options for improvement where brought up, all unique, sustainable and a great improvement to the drab area that we where working on. The ideas ranged from interactive builds, using people's energy and the need to climb structures to add electricity to our grid, to enormous ocean feats, such as 'Da Big Fish', a 60 meter super build, made for the public to enjoy and mark the area by, as well as create huge amounts of energy to add to local homes. We proved that art can be made sustainable, and that public features don't have to stop at being eye catching. By the end of the day we where all actively working towards our final goals, nervous but also always excited to what the next day, the presentation of our brilliant ideas, could be. – Participant Rowan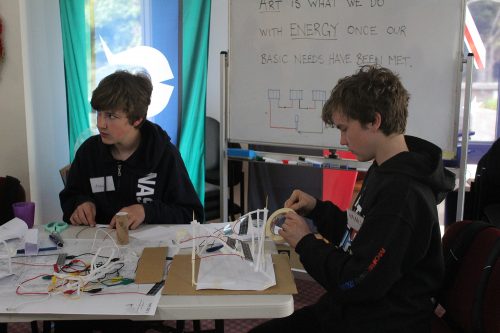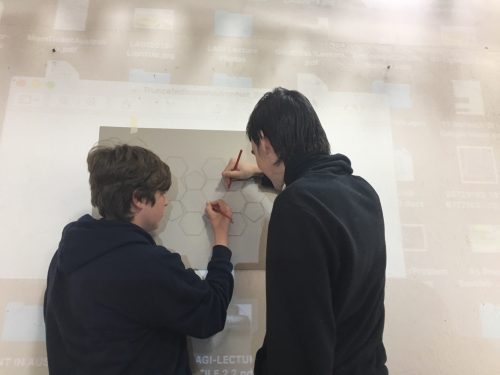 PRESENTATION
Day 3 of the workshop began with individuals and teams jumping right into working on their models and diagrams, getting ready for the end of day presentations.
Everyone took some time to do a few calculations to determine how much energy their artwork could generate over an entire year. The first step was to figure out the surface area of the solar panels. We did this by drawing an adult person to scale relative to our artworks and assigning a length of two meters to that figure. Then we were able to make a 10m scale from that and measure the lengths of all of the sides of the solar surfaces. Using 200 watts as the peak nameplate capacity for every square meter we multiplied our surface area by 200W to find the total nameplate of our artwork. We then multiplied by 8,760 hours per year and then by a capacity factor to account for night-time, cloudy skies, and imperfect solar orientation (this ranged from 10% to 15%). We were happy to discover that some of our artworks could power hundreds of homes, others many dozens of homes. Some artworks used wind and piezoelectric which we were able to estimate in similar ways.
Meanwhile, we were able to wire up some LED lights to solar panels to make a representation of the functionality of our solar artworks.
Karen Jones with the EcoCentre gave a lesson in public speaking and some tricks that she uses, such as imagining herself as a tree with a canopy, trunk, and root structure that grounds her and helps her to focus. We all took some time to practice speaking on a topic of our choosing, which served us well when the time came to present our final designs to representatives of the City of Port Phillip and Councillor David Brand.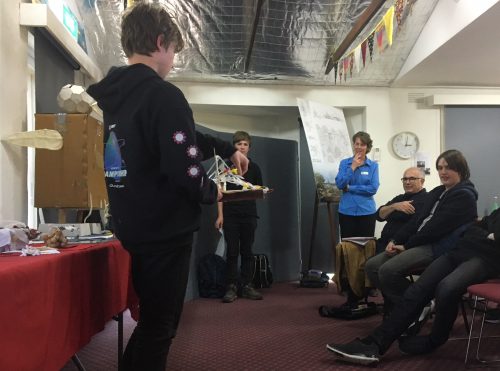 Thanks to Ashley Sroka, Master of Environment student at the University of Melbourne, for being with us in a hands on capacity during the workshop!
And thank you to the EcoCentre for working with us closely to make this happen!
Download the Art+Energy Camp outcomes here >
Download the Art+Energy Camp workbook here >