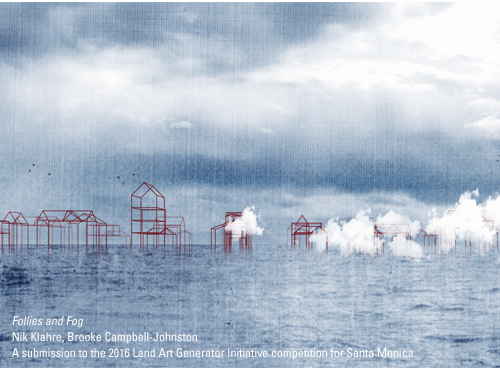 Follies and Fog a submission to the 2016 Land Art Generator Initiative design competition for Santa Monica
Artist Team: Nik Klahre, Brooke Campbell-Johnston
Artist Location: London, UK and Copenhagen, Denmark
Energy Technologies: Wave Energy Converter
Annual Capacity: 13,000 MWh, less the energy required to power fog generation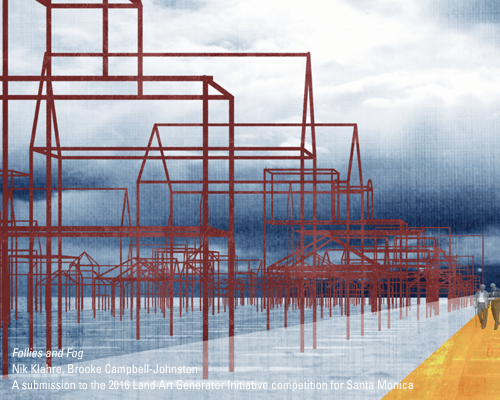 Renewable energy of the future does not need to be a blot on the landscape, or an affliction on local ecosystems, but can instead float harmlessly and almost invisibly just below the ocean's surface. Follies and Fog celebrates the notion that today's renewable energy sources do not require exterior cladding or to be fashioned into interesting forms, but instead can remain hidden and out of sight, while providing sustainable energy for the city.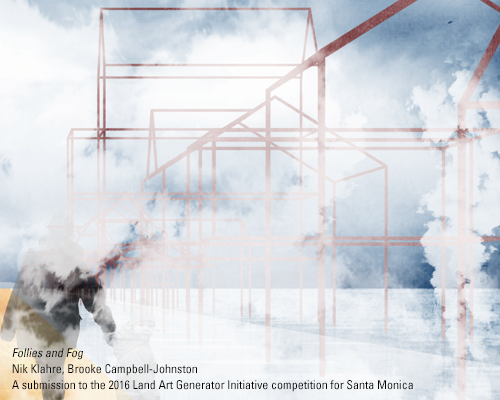 The artwork makes visible the hidden wave energy production units below the surface of the ocean, but also uses a small amount of wave energy to conceal itself in a fog mist. As the amount of renewable energy produced nears the target of powering 1,280 homes, the amount of artificial fog is so great that it completely engulfs the artwork in a cloud of mist, obscuring it from view. It is only when the renewable energy source begins to wane as the waves become less powerful that the viewer is able to perceive the work of art within the cloud of artificial fog.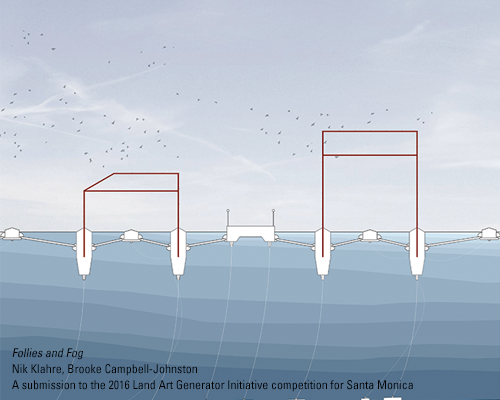 The design proposes 128 floating follies, each symbolizing the archetypal Santa Monica dwelling and its need for energy. Each of the bright red follies is an abstraction of a house type found in a district of Santa Monica. The follies are connected to a floating grid of buoy-type wave energy converters. Each folly is directly responsible for powering 10 homes within the City of Santa Monica.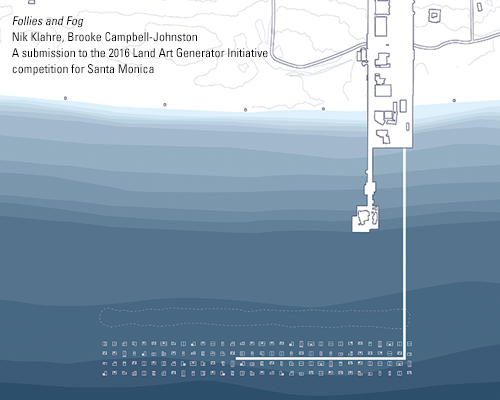 A walkway invites visitors to follow the line of the original Santa Monica Pier—a train line that extended out into the sea. There they can walk along this floating path surrounded by the abstract floating houses, as if walking along Santa Monica Boulevard.