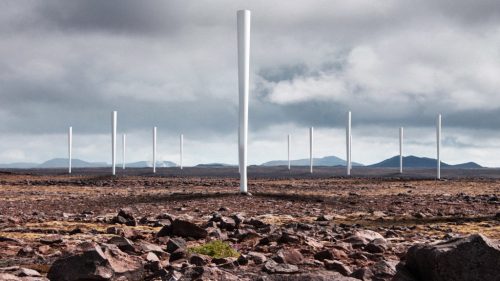 Image: Copyright Vortex Bladeless
Vortex Bladeless wind power is making big waves this week with articles in Wired and The Verge. Check out those articles for more information about the technology and some insightful comments from the Vortex team.
We've been following Vortex for some time with the hopes that 1. the full scale installations will be wildly successful, and 2. they will inspire creative applications of wind energy installations that can be placemaking contributions. Who wouldn't want to hang out in a park with these simple and elegant objects?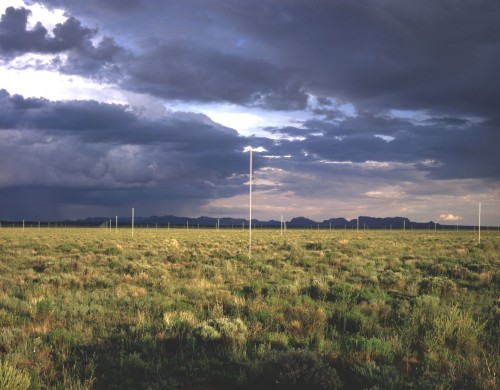 Photo: Copyright Dia Art Foundation, New York
We also think it's interesting to compare the formal expression of a field of these Vortex Bladeless installations to that of The Lightning Field, 1977. Walter De Maria's sublime land art work is the kind of art that inspired us to conceive of the Land Art Generator Initiative in 2008. The piece in the high desert of western New Mexico incorporates 400 polished stainless steel poles in a grid array measuring one mile by one kilometer. It is intended by the artist to be experienced over a long period of time and visits to the site require an overnight stay. While the gesture to the sky from the earth seems in our minds to be a temptation to lightning, we do not need to witness a lightning strike to have a full experience of the artwork.
We're looking forward to the day that someone catches a photo of lightning striking the Vortex Bladeless array (although that will probably require some repair work).
Vortex Bladeless uses the phenomenon of vorticity to generate vibrations that are converted into electricity.