Quiver
2nd Place Winner to the 2014 Land Art Generator Initiative Copenhagen design competition
Artist Team: Mateusz Góra, Agata Gryszkiewicz
Artist Location: Warsaw, Poland
Energy Technologies: biofuel, aeroelastic flutter (Windbelt™)
Annual Capacity: 550 MWh (223 MWh bio, 327 MWh Windbelt™)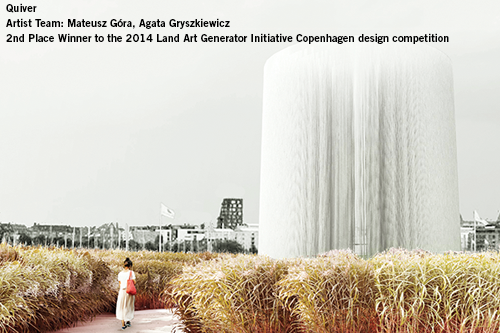 Quiver has two main elements: the garden and the tower.
The garden is a field of Miscanthus grass-energy crops that grows a maximum of four meters tall and can be harvested twice a year. Changing planting schemes offers diverse functional patterns and spaces for citizens and visitors. The grass grows well in blighted soils, assisting in their remediation over time by accumulating pollutants into its root systems.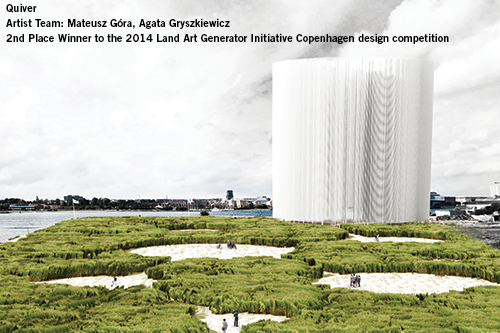 At the far end of the park is the tower—a landmark that welcomes boats arriving to the city. The footbridge brings visitors to the top of the installation and to an expansive view of Copenhagen. As the Windbelts™ flutter in the wind, the panorama, while moving towards the top, is in continuous dynamic flux.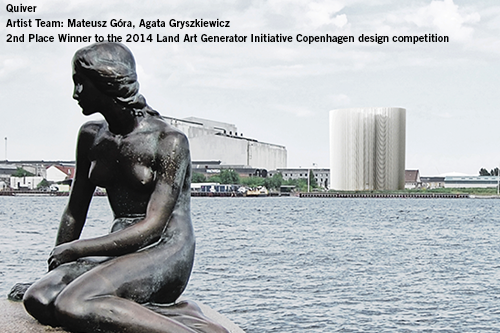 During the night, the tower has another active role, calling to mind a lighthouse. LED lighting reflects a visual representation of the current wind conditions in Copenhagen.