Thank you to everyone who has downloaded A Field Guide to Renewable Energy Technologies. Since we made it available in February, this free online PDF has been downloaded over 60,000 times!
We have had many requests for a printed version and we are pleased to announce that we now have hard copies available. As Karim Elgendy of Carboun pointed out, "It can only really be a field guide when you can take it to the field."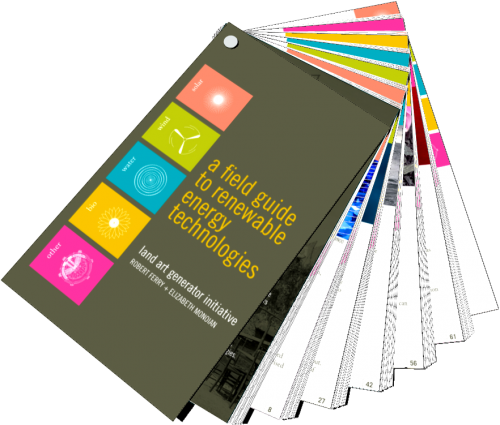 download the latest online version of A Field Guide to Renewable Energy Technology
We are now taking orders from those who are interested in a printed copy ($20). Yours will look exactly like the image above and will make a great looking and useful accessory. If you're interested in receiving a copy, please fill in the number of copies in the form below and click "Order Now".
If you are an institution and interested in purchasing more than 10 copies, please get in touch with us and we will provide a great bulk discount. Email us at lagi@landartgenerator.org.
[wp_cart:Printed "Field Guide to Renewable Energy Technologies":price:20.00:end]
If you have any trouble completing your order, please let us know.
All proceeds go to Society for Cultural Exchange in support of the Land Art Generator Initiative.