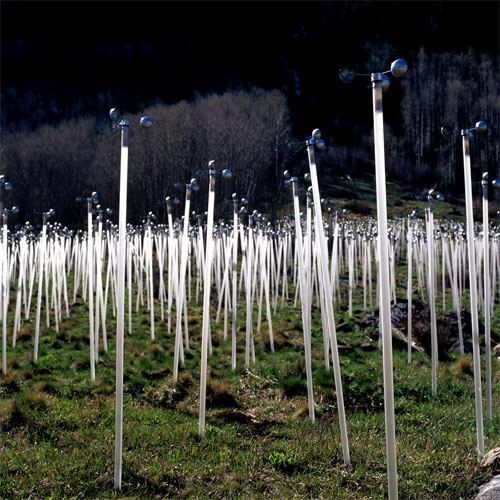 Windmill Project. Vail 2007
We came across this wonderful renewable energy and land art piece that we'd like to share. It is created by Patrick Marold and was originally inspired by his time in Iceland—the vast landscapes and the long winter nights there. He has since installed the project in various site-specific manifestations in Burlington VT and Vail CO.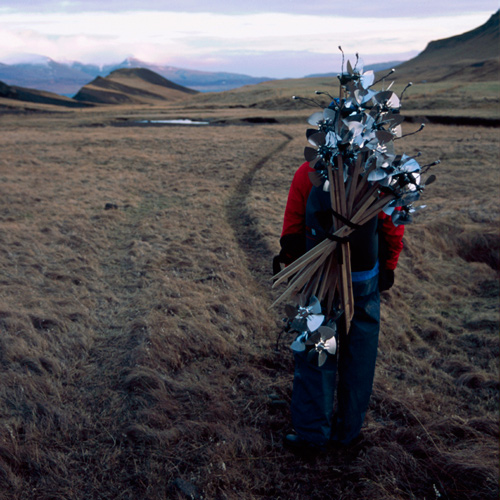 Carrying the Windmills to the site. Iceland 2001
From Patrick Marold's website:
The WINDMILL PROJECT was developed out my desire to map and watch the wind, harnessing its behaviors. While living in Iceland during the long winter nights, I would install this sculptural tool in the pasture and hills. Iceland's abundance of wind and dark hours provided the perfect setting to develop this idea. The most recent Windmill installation in Burlington, Vermont lasted 14 weeks last fall; and the 2007 installation in Vail, Colorado employed as many as 2700 windmills, covering over 15,000 square feet.

The WINDMILL PROJECT involves placing a mass of light generating windmills in specific outdoor locations. The wind forces each windmill to produce a relevant amount of light, in a sense digitizing the wind. This work of art converts the energy of wind into a responsive visual choreography, exhibiting the rhythm of a mechanical process that is collaborating with the harmony and chaos of wind.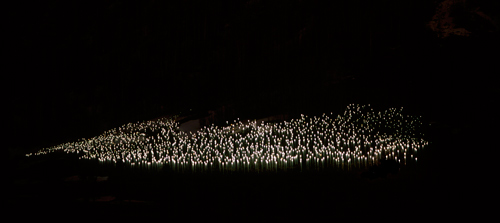 Windmill Project, Town of Vail, 2007. Viewed from frontage road.
There is a video of the installation here. At night, the rotating windmills create a flickering effect on the field of lights, almost like a forest of candles.