Fai Lam
Designed for Site #3 in Abu Dhabi, on Airport Road near Masdar City.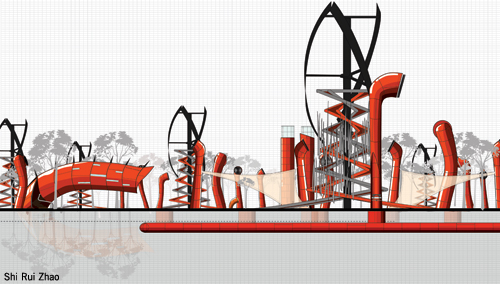 Design Submission for the 2010 Land Art Generator Initiative Design Competition
Artist's descriptive text:
50% of energy used in UAE goes to cooling. We proposed a new type of energy plant other than simply producing electricity.
The project starts to work on the major electricity use burden, i.e. cooling. The pipe forest proposes a new way but also Arabic ancient way of cooling air through the cool underground earth and water table. Electricity from wind power and solar power are minimized for supporting system.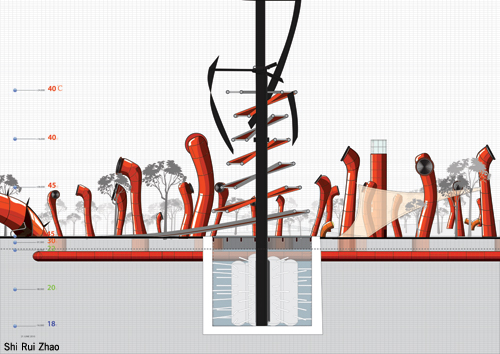 The project questions the traditional way of power plant design and it proposes a new way to supply energy directly to the users.. The project proposes cooling air for the twin city by using the cool earth and water table below the desert. Numerous Wind Catchers are planted into the soil and draw in hot air from the sky into the soil. All the fresh air caught is compressed into air tank which is drawn below the underground water table. Cool Air from the storage tank are distributed (like main water supply) into the city buildings through insulated vent air duct along highway, then to the city centres.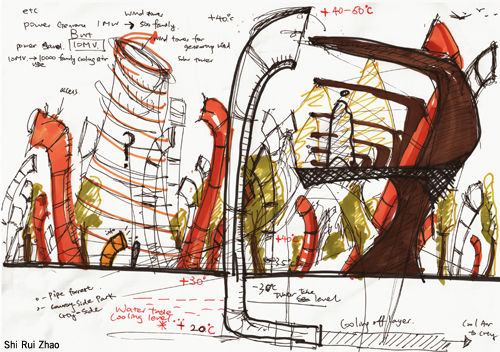 All wind catchers are powered by the solar panels and the wind turbine towers. Extra energy from the PV panels and wind turbine towers are transmitted into the national electricity grid as clean electricity energy to the city.