Adam Pelissero and Brett MacIntyre
Designed for Site #2 in Abu Dhabi, between Saadiyat Island and Yas Island.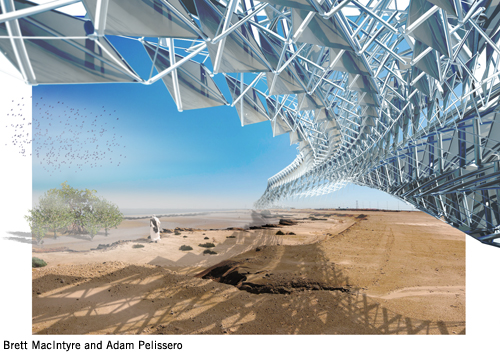 Design Submission for the 2010 Land Art Generator Initiative Design Competition
Artist's descriptive text:
At the intersection of land and sea life flourishes. Flora and fauna rely on the delicate balance of moisture and nutrients found only at this terrestrial horizon.
However, the precise water salinity that fosters this unique shoreline is being disrupted; rapid industrialization and climate change are exacting a heavy toll on a sensitive coastal condition. As the salinity of the water along the Site 2 coastline increases, native species that once flourished are disappearing.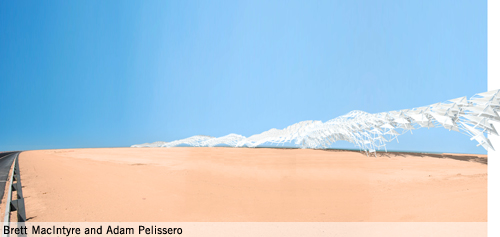 We propose a lightweight structure that will harvest electrical energy from the sun and re-introduce fresh water back into the coastal habitat. This fresh water will help regulate the salinity of the shoreline and encourage the re-growth of vegetation. Balancing along the shifting edge of land and sea, earth and sky, the Living Ribbon serves to mediate between technology and nature, innovation and preservation.
The Living Ribbon is a tensional integrity structure that stretches 1.6 kilometers along the coastal boundary of Site 2. It will support an array of photovoltaic fabric panels and fog harvesting nets. The long spans that are achievable with tensegrity minimize ground connections thereby reducing the negative impacts to the land.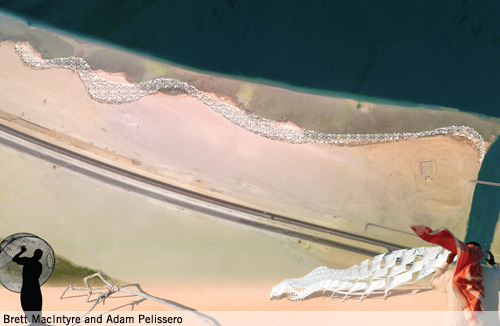 For approximately 6 months of the year fog is a presence along Site 2. This fog can be used to regulate the salinity of the shoreline by introducing fog harvesting nets. As this fog passes through these nets, it will condense and drip onto shoreline to mediate the salinity of the coastal waters.
Strategically placed rocks contain this water to foster the growth of indigenous flora and fauna. Photovoltaic fabric that stretches across the ribbon generates electrical power. Based on current standards, this project could produce up to 888kW of electricity per day.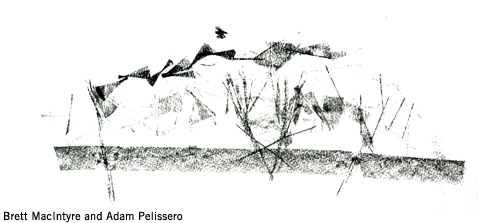 Our proposal does not seek to create another monument, but rather celebrate the natural beauty imbued in the landscape of Abu Dhabi. By utilizing technology to nurture this coastal region, we hope to develop a harmonious synthesis between modern technology and the land.