Sherri J. Newman and Jen Earle
Designed for Site #3 in Abu Dhabi, on Airport Road near Masdar City.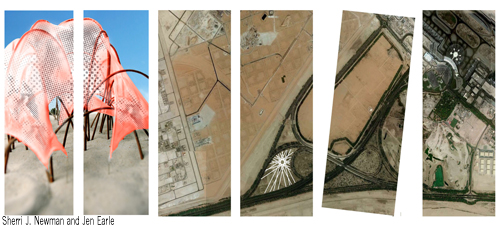 Design Submission for the 2010 Land Art Generator Initiative Design Competition
Artist's descriptive text:
The concept for our land art generator is a response to the conditions of its environment. This was accomplished through site movement and patterns, local climate, and cultural geometry.
The viewing platform for the Land Art Generator will take place from the frame of a window, as local Abu Dhabi citizens and tourists circulate around the site. The movement, both by highway and airplane traffic from Abu Dhabi's International Airport informed the design of the structure with the intention of conveying a sense of motion from within a static object. The subject would view the sculpture from the reference point of a car or airplane window and as the viewer rotates around the object varying perspectives are produced from different angles and in three dimensions.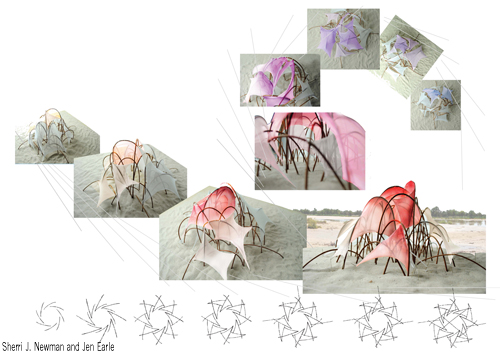 Smart textiles are layered over the sculpture as a temperature sensitive skin accomplished by thermochromic dyes. As the ambient air temperature and light intensity change throughout the course of the day, the textile would vary in color and effectively act as both a visual thermometer and indictor of how much solar activity is being collected by the installation, giving a visual tangibility and aesthetic quality to clean energy consumption. Responsive textiles allow for environmental readings that will engage citizens.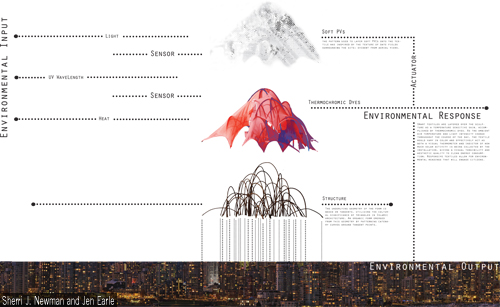 The underlying geometry of the form is based on tangents, utilizing the cultural significance of triangles in Islamic architecture. An organic form emerged from this geometry, by patterning catenary curves around tangent points. Finally, the pattern used to layer soft PVCs onto the textile was inspired by the texture of date fields surrounding the site; evident from aerial views.
The lightweight, tensile design allows for minimal environmental impact, and a chance to present solar energy to a new generation of consumers.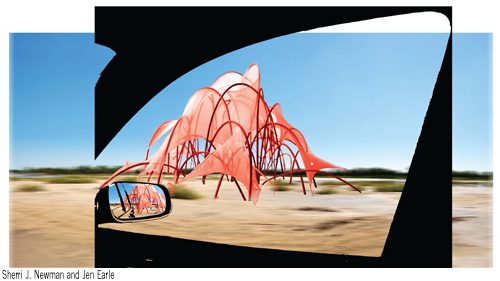 The island,
carved by the machine,
fluid lines of the outer shell display the dynamic force,
motion contains the object,
Impenetrable boundary.
Nature maintains the periphery,
Containing from within,
The vastness of the island.
The object,
Engaging,
contained at rest,
invites the subject,
into motion.