Ryan Connolly
Studio of Associate Professor, Lisa Tilder, at the Knowlton School of Architecture, The Ohio State University
Designed for Site #1 in Dubai, near Ras al Khor Wildlife Sanctuary.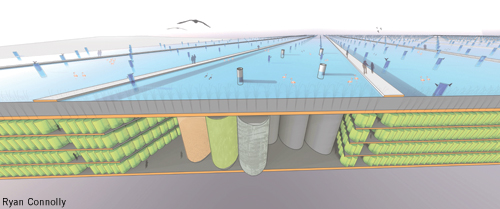 Design Submission for the 2010 Land Art Generator Initiative Design Competition
Artist's descriptive text:
Symbiotic Ecologies are a juxtaposition of man-made and natural ecologies that will create energy beneficial to both. Visitors move into the site along boardwalks; first, over fields of fiber optic cables and then into bird filled meadows. An underground algae farm utilizes the light captured in fields of fiber optic cables to grow. When processed, its lipids are converted into biofuels that cleanly power Dubai's built environment and its sugars are returned to the site in the form of bird feed.
In addition, natural shallow water, marsh, seacoast, and grassland habitats provide an extended home to the 7,000,000 birds that annually pass through the Ras Al Khor Wildlife Sanctuary. By enhancing the existing wildlife sanctuary with a new energy-generating art installation, this project seeks to become not only a global tourist destination but a model system of local energy creation and feedback, environmentally and culturally specific to the UAE.
ENERGY GENERATION
The project's energy generating capacity relies on an underground system of algae farms. Sheltered underground, no excess environmental controls or conditioning are needed on the site to make it suitable for crop growth. Photobiotic reactors are used to grow the algae, which would be processed into biofuel and electricity. Fields of fiber optic cables on the surface of the site will collect sunlight during the day and pass it underground to the reactors. Combined with CO2 harvested from the air and waste water from Dubai, a harvest of algae can be completed in one to ten days, with a 100% yield capacity.
Algae can grow with saline water in desert conditions, produces 300x more oil than conventional crops, and grows 20-30x faster than traditional food crops. To be harvested, the algae is starved of its nutrients, separated into its constituent lipids and sugars by soaking in a solvent bath, the solvent is evaporated, and the lipids are converted into biofuels and their sugars are used as bird feed. The biofuels can be used to cleanly power Dubai and the feed is then redistributed across the site, attracting and nourishing the local and migrant bird populations of Ras Al Khor. Once its initial construction is complete, this project will coexist and symbiotically support the neighboring bird sanctuary. Truly clean energy should support Dubai's built environment and preserve the natural environment and diversity that makes the UAE so unique.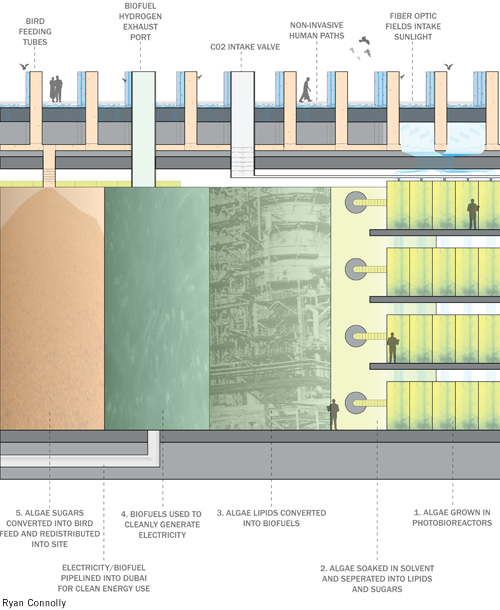 TEMPORAL EXPERIENCE
Symbiotic Ecologies presents a seasonally changing temporal habitat, providing varying means of human and animal occupation. The northern portion of the site will be flooded by the nearby Dubai Creek, providing a year round bird sanctuary and feeding grounds. To the south, other areas of the site contain integrated fiber optics light harvesting fields and bird feeding systems. These areas will be gradually flooded in the spring and fall, with peak flooding occurring in the winter, to provide increased shallow water, marsh, seacoast, and grassland habitats for the large influx of migratory birds at this time. As more birds migrate, a larger area of the site is devoted to providing a habitat and feeding grounds. As they go, the site may revert back to generating energy for human consumption. When the habitable space for the birds increases, the area occupiable by man decreases, with certain paths only accessible during the summer, spring or autumn. People and birds co-exist in a proportional and symbiotic relationship, in occupation and energy production and consumption.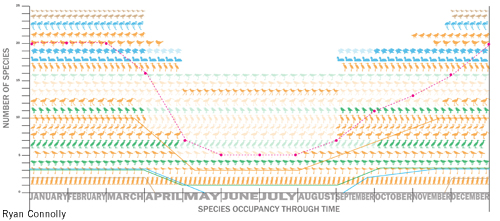 SYMBIOTIC ECOLOGIES
The fiber optic fields mimic the appearance of agricultural fields, the very impetus that allowed man to evolve, to settle in groups, and to found cities in the Fertile Crescent, not so far from Dubai. This form is fitting to propel human settlement into the post-petroleum age. As the product of intense technological planning, the optic fields present a disturbing and reassuring closeness of human intervention. As visitors plunge deeper into the site, more and more birds surround them. Technology fades away to a more comfortable, recognizable, and local ecological system. Conspicuously, it is man who is feeding and sustaining the bird populations. Visitors from around the world will identify mans' position as primary benefactor and controller of the Earth's resources and his/her need to maintain Earth's diversity of species and habitats. Leaving the site, the visitor is confronted by a sea of technological melancholy. Equated, it appears as though it is possible for us to sustain ourselves and those who we shepherd on this planet.