AECOM & Squint/Opera
Christopher Choa, Maged Hanna, Daniel Elsea, Rachael Pengilley, Margot Orr, Shafee Jones-Wilson, Hardik Pandit (AECOM); Jules Coke, Nick Taylor, Amelia Roberts (Squint/Opera); and Michael Bonnington
Designed for Site #2 in Abu Dhabi, between Saadiyat Island and Yas Island.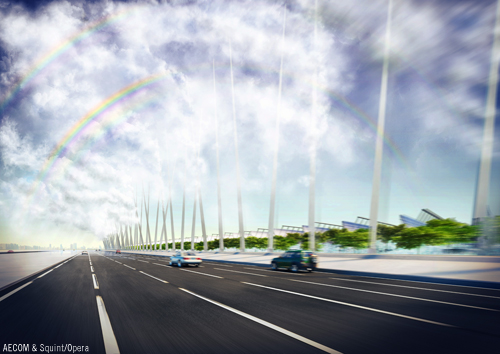 Design Submission for the 2010 Land Art Generator Initiative Design Competition
Artist's descriptive text:
TRANSPIRE v. [to emerge, to be made public]
TRANSPIRATION n. [a natural process similar to evaporation. The expression of water from the aerial parts of plants as part of their energy cycle]
TRANSPIRE makes the invisible visible.
On a long narrow site bounded by a canal and a highway, one hundred iconic stainless-steel spires sway like barasti reeds and produce a soft shape-shifting cloud that clearly marks the site from a great distance.
We drew influence from many sources — including large-scale contemporary artists such as Robert Smithson, Jenny Holzer and the French street artist JR. Artists such as these have been exploring new frontiers in using surrounding built, natural and social environments as their canvas. We were also deeply influenced by local context: the harsh climate of the area and traditional forms found in architecture that provide shade.

Transpire is a net producer of energy. Elegant in its simplicity, the installation celebrates the alchemy of natural elements essential for human survival; sunlight and seawater transform into abundant electrical power, freshwater, and salt. Transpire is a net producer of energy, a net zero-carbon solution, and emits zero pollutants.
Against the backdrop of a flourishing acacia grove set in a moat of multi-hued crystallized salt, the spires and the floating cloud combine to create a meaningful and symbolic gateway to Abu Dhabi.
Transpire creates a unique public intervention in an unexpected place. It is also a dynamic art venue: imagery, films and text created by invited artists or the public can be projected onto the cloud bank at night. During the day, under certain atmospheric conditions, a rainbow will form, visible all the way from Abu Dhabi.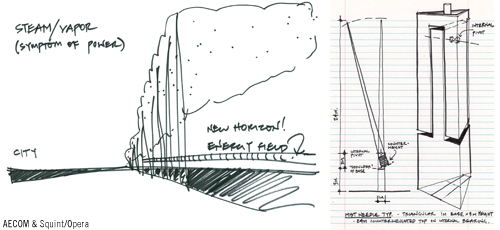 Stretching over 1.6 kilometers along the Saadiyat/Shahama expressway, the Transpire installation consists of five inter-related parts:
FIELD
Solar rays, focused within 300,000sm of 9-meter wide parabolic troughs, heat synthetic oil to very high temperatures. This heat is transferred directly to a steam turbine cycle, or to reservoirs of molten salt to be used for power production both day and night. The extended area under the solar troughs is shaded from the sun – an extraordinary landscape that can be used as a public park.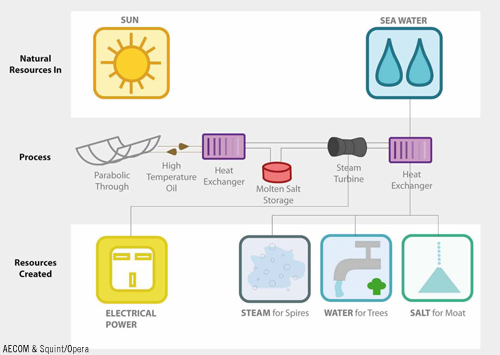 POWER
Heat exchange infrastructure, including underground molten salt reservoirs, turbine generators, and the desalination system, is contained within a 1 Ha secure perimeter. Stored thermal energy powers steam turbines to generate up to 12Mw electrical power during the day, or 6Mw at night. Seawater heated in an independent loop as a by-product of the power generation cycle produces low-pressure steam and potable water. Guided tours will allow the public to observe the technical processes at close range.
SPIRES
One hundred spires line the expressway and vent condensing fresh-water steam to seed the cloud bank. Each spire is 30 meters in overall height, and consists of a 27-meter ballasted lightweight top portion superimposed over a 3-meter anchored base. An internal pivot point within the central flange of the base allows the top of the spire to react freely to external wind movements. Low-pressure steam is fed into the spires via a flexible hose led through the base's central flange, ultimately venting through nozzles along the spire's edges.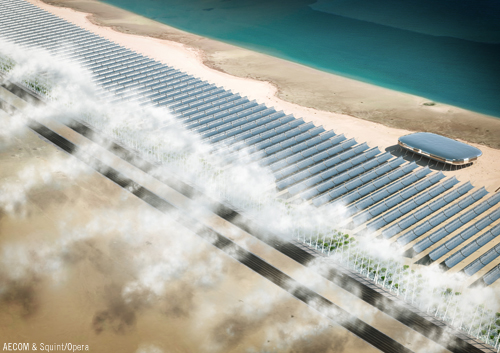 GROVE
A grove of one thousand acacias in sealed planter beds is irrigated by 300,000 liters/day of potable water produced entirely on-site by the desalinization cycle.
MOAT
A by-product of the desalinization cycle, concentrated brine cascades down terraces and creates and creates a surreal multi-hued crystalline field around sealed acacia planters. No waste brine is discharged into the canal.