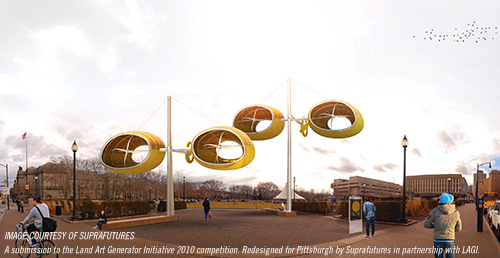 The WindNest team continues to grow and the project keeps getting better as the engineering details are worked out. Schematic design is now complete and the public approval process is underway with the City of Pittsburgh.
Trevor Lee at Suprafutures has done an excellent job of adapting the concept to its new site and the design continues to evolve in response to stakeholder and engineering feedback.
A revised completion date has been established for the Spring of 2016.
Please check back here for updates. We'll provide a complete list of project partners and a detailed timeline once the project has the green light from the City.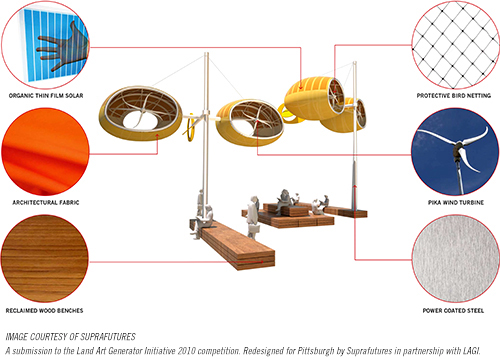 We recently completed the fabrication of the prototype of one of the "nests" at approximately 1/4 scale. Thanks goes to Chris Williams at Steeltown Design for putting it together. We'll begin testing as soon as the weather breaks in Pittsburgh. The results, along with a desktop computational fluid dynamic model analysis, will inform the next stages of design.
The prototype was built purely to measure performance. Lots of shortcuts in fabrication. Final version will look much more like the renderings and we are engineering the skin to not have the ribbing effect on the fabric.
Thanks to Deborah Hosking for shooting and editing this fun video of us moving the prototype to its winter storage location.