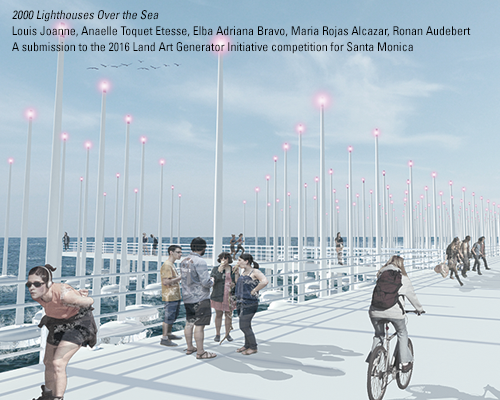 2000 Lighthouses Over the Sea
Submission to the 2016 Land Art Generator Initiative design competition for Santa Monica
Artist Team: Louis Joanne, Anaelle Toquet Etesse, Elba Adriana Bravo, Maria Rojas Alcazar, Ronan Audebert
Artist Location: Guadalajara, Mexico
Energy Technologies: Point Absorber Buoy Wave Energy Converter
Annual Capacity: 4,000 MWh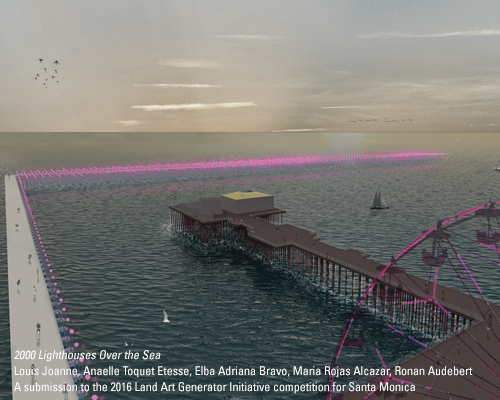 Continuing the playful atmosphere of the Santa Monica Pier, and inspired by the 2,000 wooden piles below, 2000 Lighthouses Over the Sea proposes 2,000 new columns that illuminate the horizon to the rhythm of the intensity of the waves and provide renewable energy to the pier and the city.
During the day, the masts could be interpreted as simple ship masts, drawing a line that catches the spectator's attention without disturbing the landscape.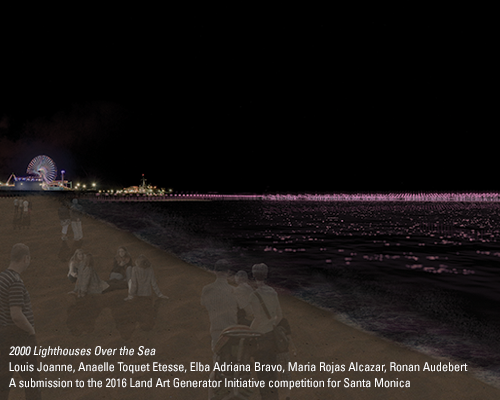 The artwork invites the public to walk out on a new pier extension. As the viewer moves and descends along the new path, she can find herself in the middle of a forest of light. The movement of the masts reflects the rhythm of the waves. From the central walkway, small side piers offer different views of the work and the surrounding landscape.
The light from the tip of the masts changes in intensity according to the power of the waves. In the presence of a storm or dangerous waves, the lights will flash a red warning.
Each of the masts signifies a buoy-type wave energy converter on the water's surface. Groups of 150 masts share a synchronized collection point, from where the collected energy is transmitted to a power substation on shore.
2000 Lighthouses Over the Sea shows how it is possible to harness renewable energy resources by working in harmony with our planet, respecting marine life, and protecting the environment.