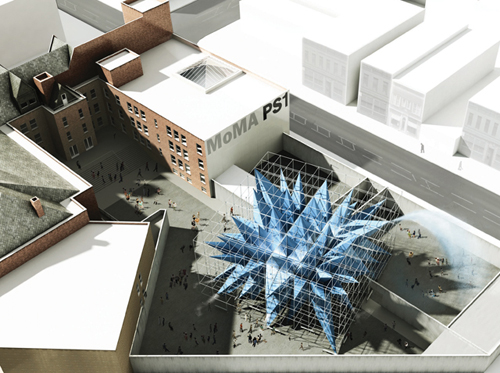 Image by HWKN
The winner of the 2012 MoMA PS1 Young Architect's Program is a public artwork that also cleans the air of pollutants via nanoparticles. It's another great example of solution-based artwork, or artwork that is moving beyond formative and didactic expressions and into the realm of infrastructure art. In this case, the artwork is serving the useful function of air purification, claiming a capacity equal to the removal of 260 cars from the roads. The piece will be using energy to power its multimedia interaction, so overall it is not an example of net zero energy art. But it does offset its footprint somewhat with this technological innovation.
From HWKN:
Wendy does not play the typical architecture game of ecological apology – instead she is pro-active. That is why Wendy is composed of nylon fabric treated with a ground breaking titania nanoparticle spray to neutralize airborne pollutants. During the summer of 2012 Wendy will clean the air to an equivalent of taking 260 cars off the road. The courtyard at MoMA PS1 will be activated by tools like shade, wind, rain, music, and visual identity to reach beyond her envelope. Wendy's spiky arms reach out with micro-programs like blasts of cool air, music, water canons and mists to create social zones throughout the courtyard.
Hopefully the titania nanoparticle spray does not have any downside ecological effects in its complete life cycle. According to the manufacturer, PURETI, "the product received a life cycle assessment score of -70 (negative 70), making it an significantly net environmentally beneficial technology." The FAQ on the PURETI website says that it doesn't work on fabric though. Hopefully there is an exception to that rule for Wendy's nylon.
via NY Times ARTSBEAT with a hat tip to Deborah Hosking