Boulos Douaihy
Designed for Site #2 in Abu Dhabi, between Saadiyat Island and Yas Island.


Design Submission for the 2010 Land Art Generator Initiative Design Competition
Artist's descriptive text:
Our installation is a celebration of the sun's "aura" on earth. It emphasizes the sun's cycle during the day and year and quantifies and shows the energy produced by sunlight.
A forest of metallic geodesic spheres with a photovoltaic hemisphere rotate on their axis following the movement of the sun during the day, collecting sunlight and transforming it into electricity stocked in underground batteries, allowing their rotation.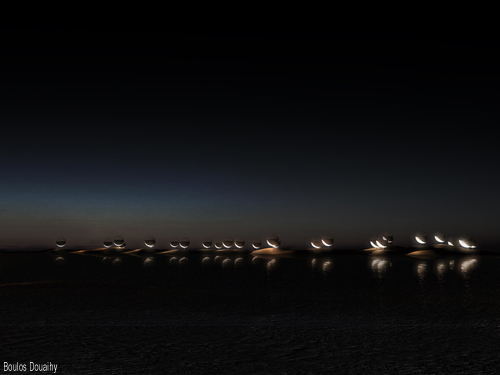 The energy collected during the day will be exposed during the night through light emitted from the same photovoltaic hemisphere. The more energy collected, the more the light is intense. Summer nights being the most lit.
The spheres start the day by welcoming the first sunrays at dawn and follow the sun's path becoming self-sufficient sun watches. During the night, the spheres become lit crescents seen from afar, indicating the night time.

The Moon and the Sea
Our installation emphasizes the effect of the sun and moon on the sea by exaggerating the tide's action on the shore's outline.
The land, bound by the highway on one side and open to the sea on the other, is topographically manipulated to form mounds of different levels creating platforms hosting the spheres and disappearing into the sea.
As the tide goes up, the water surrounding the mounds create islands of variables sizes and shapes, continuously changing the shore line and putting the "photovoltaic spheres" in different situations.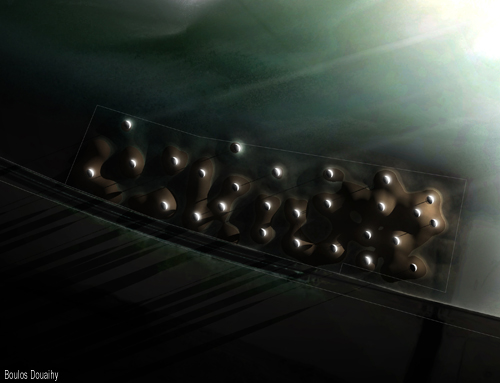 Sun Islands
Visitors to the "sun islands" can examine the spheres from the highway or can go island hopping and experience the different outlines created by the tide.
During the day, the spheres create shaded spaces allowing for potential camping or picnic spots. During the night, the spheres light up the park , where different activities can take place: jogging, music festivals, stars watching etc…