We are very pleased to announce that, in partnership with New York City's DEPARTMENT OF PARKS & RECREATION, the 2012 Land Art Generator Initiative design competition will be held for a site within Freshkills Park (the former Fresh Kills landfill) in Staten Island.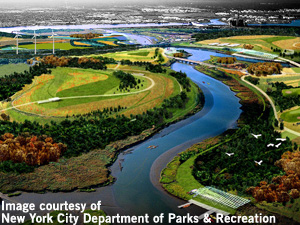 "At 2,200 acres, Freshkills Park will be almost three times the size of Central Park and the largest park developed in New York City in over 100 years. The transformation of what was formerly the world's largest landfill into a productive and beautiful cultural destination will make the park a symbol of renewal and an expression of how our society can restore balance to its landscape.
In addition to providing a wide range of recreational opportunities, including many uncommon in the city, the park's design, ecological restoration and cultural and educational programming will emphasize environmental sustainability and a renewed public concern for our human impact on the earth." – FRESHKILLS PARK
The detailed design brief will be released here upon the opening of the competition in early 2012. The brief will be similar to the guidelines from the 2010 edition of the LAGI competition and will provide detailed information and analysis about the specific site location within Freshkills Park.
The expansiveness of the design site at Freshkills Park presents the opportunity to power the equivalent of thousands of homes with the artwork. The stunning beauty (MORE PHOTOS HERE) of the reclaimed landscape and the dramatic backdrop of the Manhattan skyline will provide an opportune setting from which to be inspired, and it offers the perfect environment for a showcase example of the immense potential of aesthetically interesting renewable energy installations for sustainable urban planning.
The monetary prize award (details in the coming months) will not guarantee a commission for construction; however, LAGI will work with stakeholders both locally (NYC) and internationally to pursue possibilities for implementation of the most pragmatic and aesthetic LAGI designs.