Michal Gdak and Ewelina Gorczynska
Designed for Site #2 in Abu Dhabi, between Saadiyat Island and Yas Island.

Design Submission for the 2010 Land Art Generator Initiative Design Competition
Artist's descriptive text:
The history of cities is mostly hidden in the ground. Ruins, foundations of destroyed buildings, or personal belongings of citizens are waiting through centuries to be discovered by archaeologists. In the case of Abu Dhabi, the sand is the witness to the rising of the new city.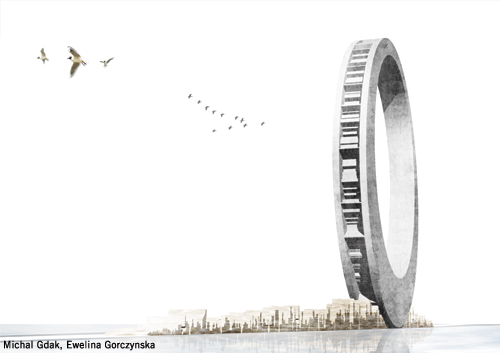 The City Trace Generator is the appliance which provides the footprint of the Abu Dhabi and Dubai combined skylines to the land. On the 1.5 km strip is imprinted the form of the horizon on the earth.
The stark beauty of the site and its location along the road make it perfectly suited to the artwork and serve to underline the concept of the movable monument. The site provides the most important medium of the work, the sand.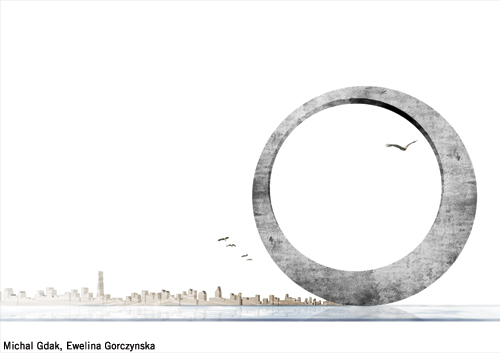 The energy is generated by a solar updraft system. A 1.5 km strip of glass collector along both sides of the "trace" line stores the solar energy by super heating the air. The hot air rises up a tube chimney inside the monumental ring to toward cooler and less dense air above. This natural system of air circulation drives the turbines. The tube chimneys are located on the both sides of the City Trace Generator. The tubes are connected with the collector structure by the rails, which also support the 150 m high ring.