In partnership with New York City Parks & Recreation the Land Art Generator Initiative held its 2012 design competition for Freshkills Park in NYC (the former Fresh Kills Landfill). On July 1st, LAGI received 250 inspiring submissions from around the world.
Please join us on Thursday, October 25, 7pm at SOHO Gallery for Digital Art in NYC for this free and open celebration.
The winning submissions will be announced!
You'll be able to view design solutions for clean energy generating artworks that could power NYC, learn about renewable energy and infrastructure art, and meet many of the participating design teams.
Guests will also get a free copy of "A Field Guide to Renewable Energy Technologies".
SOHO Gallery for Digital Art is located at: 138 Sullivan Street, NYC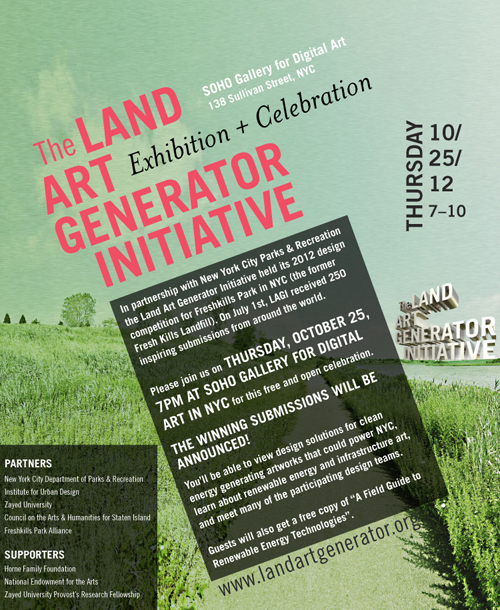 PARTNERS FOR LAGI 2012
New York City Department of Parks & Recreation
Institute for Urban Design
Zayed University
Council on the Arts & Humanities for Staten Island
Freshkills Park Alliance
SUPPORTERS FOR LAGI 2012
Horne Family Foundation
National Endowment for the Arts
Zayed University Provost's Research Fellowship
Private Donors