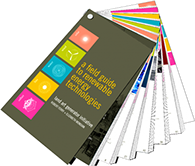 The Land Art Generator has put together this free 73-page Field Guide to Renewable Energy Technologies.
We hope that it is a source of inspiration to all designers, homeowners, urban planners, students, artists, and anyone
else interested in a clean energy future.
LAGI supporters have included
National Endowment for the Arts, Horne Family Foundation, Heinz Endowments, Hillman Foundation, Zayed University, Masdar, Region Capital of Denmark,
The Culture and Leisure Committee for the City of Copenhagen, Glasgow City Council, Shawati' Magazine,
IT University of Copenhagen, Furthermore: a program of the J.M. Kaplan Fund, Dreyers Fond, Elizabeth Firestone Graham Foundation, Creative Carbon Scotland, and many private donors.