DIRECTIONS
AGES: 15 +

SUBJECTS: Art, Science, Aesthetics, Engineering, Math, Sustainability, Design

SUGGESTED TIME FRAME: 1–2 hours

PROCEDURE (Self Directed)
1. Before you begin, read through the LEARN section of the Information Guide to get some important background inspiration.

2. When you are ready to begin, choose a flash card and read the questions on the front of it.

3. Use the information provided in the LEARN section to arrive at your answers.

4. Turn the card over. Was your answer correct?

5. Move on to another card of your choice and continue. Try to work out the answers for at least two cards.

6. As you explore the cards, you can refer back to the GLOSSARY section where you'll find definitions of key terms.

7. This URL—www.landartgenerator.org/field-guide.pdf—will take you to A Field Guide to Renewable Energy Technologies, where you will find more information about different technologies that you can integrate into your design.

8. DESIGN YOUR OWN LAND ART GENERATOR! The last pages provide you with space to sketch your own ideas of what the future of energy can look like. Imagine some of the technologies that the other artists on these cards used. What other renewable energy technologies could you incorporate? Using tracing paper and a pencil or pen, sketch your ideas on top of the site plan and photo provided.

9. Email your designs to:
energyart@landartgenerator.org

10. We will post your design in an online gallery for the world to see! Include your name and any other information you would like to share with us in the body of your email.

11. Within a few weeks you will find your design on this website.

MATERIALS
tracing paper, pen or pencil

ASSESSMENT
Hang up all of the sketches on a wall space. Students share what technologies they chose and why. Engage in a discussion together about how the technologies chosen help to define the sculptural form of the different land art generator design ideas.


PORTFOLIO
Beginning in January of 2015 visitors can upload their design sketches to this page for the LAGI Art+Energy Flash Cards. We will maintain a portfolio of all ideas on this website for the world to see.


RECOMMENDED DISCUSSION QUESTIONS
• What types of renewable energy technologies have you seen at use in your community?
• What is the most interesting public art installation that you have visited?
• Are there ways in which you could conserve energy at home?
• What kind of renewable energy technologies do you find to be the most interesting to look at?
Please download the pdf version of the dual language (English/Danish) Art+Energy Flash Card kit including the Information Guide and the Flash Cards. We have a limited edition of printed kits and you are welcome to contact us if you would like to have a set mailed to you.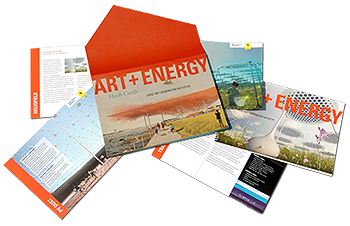 Designed by Paul Schifino, Schifino Design

The Land Art Generator Initiative Art + Energy Flash Cards are designed to strengthen the pragmatic problem solving skills needed to address solutions for 21st century energy challenges by offering an engaging tool for science education. They highlight real world applications of STEAM objectives and teach about the importance of sustainability in design.

Science, technology, engineering, design, and art all come together in this kit. The images on the front of each card represent ideas for large-scale works of public art that generate utility-scale clean electricity for cities. These artful power plants are designed to be safe to the natural environment, not create pollution, to generate energy for up to thousands of homes, and to make our public spaces more enjoyable.

Some of them have the added benefit of edible gardens, habitats for animals, air filtration, data visualization, and areas for human recreation. Any number of different technologies and materials can be incorporated into land art generators. And each employs a variety of methods for harvesting energy from natural resources such as the sun, the wind, biochemistry, and kinetic movement.

Using land art generator proposals from the 2010, 2012, and 2014 LAGI design competitions, the cards take the user through the process of estimating the amount of electricity that each artwork is capable of generating in one year based on a number of criteria, such as the nameplate capacity of the technologies employed and the capacity factor of the installation itself (a product of site conditions).

As you use these cards, think about what your design would look like for an energy generating artwork! What technologies would you use? How many homes could it power?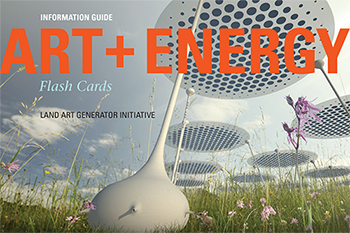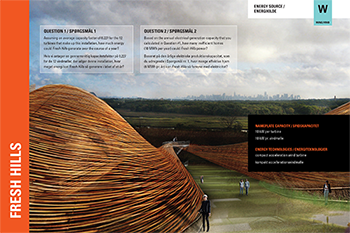 OBJECTIVES
Examine and comprehend interdisciplinary information about public art and energy generation

Identify, describe, and analyze the ways in which electricity is generated and consumed

Learn about energy conservation

Learn about different types of energy generation technologies

Apply aesthetic decisions pertaining to color, line, and form in the conceptualization of new machines for energy generation

Understand the difference between peak capacity and productive output for different renewable energy technologies

Apply capacity factor to determine estimated annual outputs based on nameplate capacity