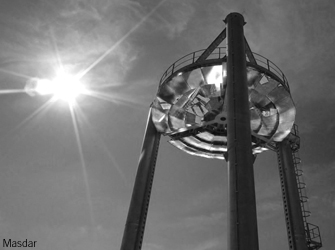 Thermal, Concentrated, Solar Power Tower
In this type of concentrated solar thermal power, an array of mirrors at the ground level tracks the sun's location in the sky and focuses sunlight onto a single collector positioned high atop a central tower pylon structure. In this system, the temperatures reached at the collector can become extremely high and create efficiencies of scale. By using a high heat capacity material such as molten salt in the collector (which transfers heat to water to run a turbine) energy can be stored to produce electricity after the sun has set.

Another variation, the beam-down tower, was recently demonstrated by Masdar in Abu Dhabi. Where in a typical solar power tower, the water that runs the turbine must be continuously pumped back up to the collector, the beam-down design allows the entire heat transfer loop to be located at ground level, potentially increasing the overall efficiency of the system.