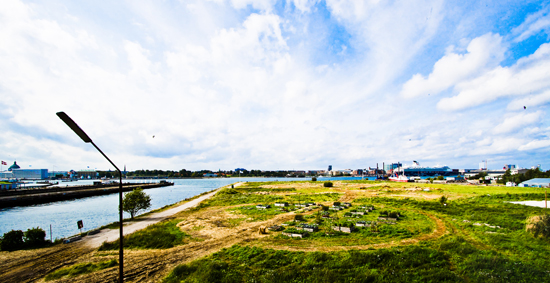 Photo by Claudia Munkeboe
The main goal of the Land Art Generator Initiative (LAGI) is to design and construct public art installations that have the added benefit of utility-scale clean energy generation. The works will serve to inspire and educate while they provide renewable power to thousands of homes around the world.
The Land Art Generator Initiative and Refshaleøen Holding are thrilled to be holding the LAGI 2014 ideas competition in Copenhagen!
As Copenhagen (the European Green Capital in 2014) moves towards carbon neutral status by 2025, the debate over the aesthetic manifestation and human interaction component of our new energy infrastructure is becoming increasingly important to the planning strategies required to attain zero-carbon sustainability goals.
LAGI 2014 CPH invites you to submit your idea for what infrastructure art of sustainable cities looks like by considering clean energy generation within the context of public art.
Letter of Support from Ida Auken, Danish Minister of Environment and LAGI 2014 Ambassador
Green transition is an important issue for the Danish Government, and the challenges of green transition are both complex and cross-disciplinary. The solutions are as well. Therefore, it is important to find new ways to integrate renewable energy projects into the city space. Art, architecture, and other creative projects and forms of expression are very much part of the solution to create greener living spaces and initiate a healthy, public debate.

I am proud to be an ambassador for the Land Art Generator Initiative 2014, as it gives Denmark and the world an opportunity to put focus on green transition and a greener development of our urban communities. And I am proud that it happens in Copenhagen at the same time as we are celebrating Copenhagen being the 2014 European Green Capital.

Green transition does not come easy, and openness and dialogue are key factors if we are to succeed in making the world realize the importance of a new way of thinking. It is vital that we have a dialogue, where all participants and groups of interest are represented.

It is essential that all aspects such as energy, architecture, the use of city spaces, climate change, and use of resources are considered in parallel, when we adapt and create our future cities. We must be able to discuss how we want our cities built, what they should look like, and how we fundamentally want to live in the future. It is my hope that this competition can help to put green transition on the agenda and give room to great creativity, new solutions, and innovative ideas that will help us create a greener future and a better world.
Letter of Support from Martin Lidegaard, Danish Minister of Climate, Energy, and Building
Green transformation of our energy systems is high on both the Danish and international agenda, and there is a great need for development of new ideas, concepts, and solutions, showing that it is possible to transform society to a green future without sacrificing our standard of living and quality of life.

The Land Art Generator Initiative provides new and exciting proposals for how the green transition can be approached. We saw this in the previous competitions for Dubai (2010) and New York City (2012), where creative talents in the arts, architecture, and engineering together brought forth innovative ideas, concepts, and solutions that can produce green energy while being beautifully integrated with the local environment.

The Land Art Generator Initiative challenges our conventional notions of the path to a green transition, forcing participants to think outside the box and develop new ideas, concepts, and solutions. I therefore see bringing the Land Art Generator Initiative to Copenhagen in 2014 as a unique opportunity to demonstrate new ways in which communities can be transformed to a new green reality. I'm sure it will inspire citizens, businesses, and cities in Denmark and the rest of the world to accelerate our green transition.
Letter from LAGI Directors Elizabeth & Robert
We are pleased to be holding the third international LAGI design competition—this time for the City of Copenhagen. And we're thrilled to be an event partner to the celebration of Copenhagen's coveted title of 2014 European Green Capital.

While developing LAGI 2014 we had the opportunity to visit renewable energy sector initiatives throughout Denmark, including projects such as the Nordic Folk Center for Renewable Energy, the forward thinking Energy Academy on Samso Island (the island produces 140% of electrical needs from wind energy), and Wave Star (located at the Danish Wave Energy Centre test site in Hanstholm)—which is operating at 60% efficiency and rounding the corner to 80%. With all of the ambitious initiatives within and around Copenhagen, it is clear to us that this city is on target to meet its objective to become the first carbon neutral capital by 2025.

The LAGI 2014 design competition follows two editions held for Dubai & Abu Dhabi (2010) and New York City's Freshkills Park (2012), three publications, exhibitions around the world, countless outreach activities, and the exciting news that we are working towards the construction of WindNest in Pittsburgh, a submission by Clare Olsen and Trevor Lee to the LAGI 2010 competition.

Municipalities in Denmark—such as the four Green Cities that are participating in the LAGI Green Cities Partnership—are expressing interest in construction. We hope to see more than one "land art generator" built in this wonderful country over the coming years—beautiful contributions to Denmark's stated renewable energy goals.

We are privileged to be working with a Copenhagen based team whose vision and dedication has helped to bring LAGI to their home. A very special thanks to Lea Schick, LAGI 2014 Project Manager, and IT University of Copenhagen for hosting this edition of the LAGI competitions.

We are also very thankful to Region Hovedstaden and to the Culture and Leisure Committee of the City of Copenhagen for their co-financing and support.

Additionally, we would like to thank the Danish Design Centre for generously hosting the LAGI 2014 exhibition at the Design Society.

And a special thanks to all of the jurors who have offered their time, and the elected officials in Denmark such as Ida Auken and Martin Lidegaard who have provided such wonderful and kind words of support.

Finally a word to you, the LAGI 2014 participant. As you begin to formulate your ideas of the perfect solution to this creative brief, you deserve our greatest and most sincere thanks. This project is only as good as the amazing design solutions that you generate and put forward.

Robert Ferry &
Elizabeth Monoian
LAGI Founding Co-Directors
The site—Refshaleøen—at its height, was a shipyard that employed 8,000 individuals and is poised to be an important area for new development within the city. The rich historical context of the site, and its place in Copenhagen's future will inform the design proposals. And the view to the site from the Langelinie and the cherished statue of the Little Mermaid provides a beautiful canvas on which to create.
The monetary prize awards ($15,000 First Prize, $5,000 Second Prize) will not guarantee a commission for construction; however, LAGI will work with stakeholders both in Copenhagen and in cities around the world to pursue possibilities for implementation of the most pragmatic and aesthetic LAGI design entries.
We are looking forward to seeing your wonderful ideas!